IMBs Suffer Net Production Loss For Sixth Consecutive Quarter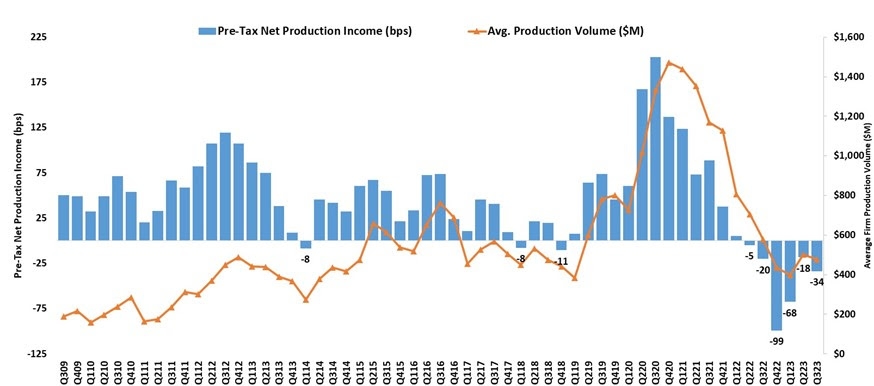 MBA report indicates $1,015 loss per loan in Q3; servicing rights keep the lights on
It's not easy to be in the mortgage business independently these days, especially when net production income has been in the red for the last year-and-a-half.
The Mortgage Bankers Association's (MBA) newly released Quarterly Mortgage Bankers Performance Report indicated that independent mortgage banks (IMBs) and mortgage subsidiaries of chartered banks reported a pre-tax net loss of $1,015 on each loan they originated in the third quarter of 2023.
This is not only an increase from IMBs' reported loss of $534 per loan in Q2 2023, but marks the sixth consecutive quarter of losses in net production income, according to MBA Vice President of Industry Analysis Marina Walsh.
"While production revenues stayed relatively flat, per-loan production costs reverted to the third-highest level in the history of MBA's survey, which reversed a portion of the cost improvements made in the second quarter," Walsh pointed out. "The MBA forecasts lower industry volume over the next two quarters compared to last quarter, which means a turnaround is unlikely until the second quarter of 2024."
The one bright spot is roughly half of mortgage companies were able to remain profitable in the third quarter with servicing and production lines combined.
"Were it not for mortgage servicing, only about one in three companies would have been profitable," Walsh added, calling this "the silver lining" of the report.
Of the firms surveyed, 51% posted pre-tax net financial profits in Q3, down from 58% in Q2.
The average pre-tax production loss was 34 basis points (bps) in Q3 2023, compared to 202 bps year over year, and 18 bps in Q2 2023.
Companies' average production volume was $477 million in Q3, down from $502 million in Q2. This was at least in part due to lower volume, as each company averaged 1,497 loans in Q3, compared to 1,553 loans in Q2.
Total production revenue increased to 329 bps in Q3, up one point from 328 bps in Q2. Production revenues per loan decreased slightly to $10,426 per loan in Q3, down from $10,510 per loan in Q2.
The average loan balance for first mortgages decreased to $341,708 in Q3, down from $343,386 in Q2. Total loan production expenses increased to $11,441 per loan in the same time frame, up from $11,044.
Servicing net financial income for Q3 the third quarter was $90 per loan, down from $94 per loan in Q2.