Mortgage Forbearance Sees Slight Dip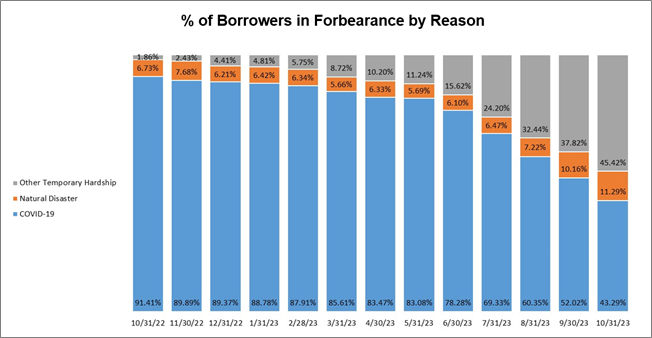 Approximately 145,000 homeowners in forbearance as COVID-related reasons decrease.
The Mortgage Bankers Association says there has been a slight decrease in the total number of loans in forbearance. As of Oct. 31, 2023, the forbearance rate decreased by 2 basis points from the previous month, dropping from 0.31% to 0.29% of servicers' portfolio volume.
According to MBA estimates, approximately 145,000 homeowners are currently enrolled in forbearance plans nationwide. Since the onset of the COVID-19 pandemic in March 2020, mortgage servicers have offered forbearance assistance to approximately 8 million borrowers.
In October 2023, the share of Fannie Mae and Freddie Mac loans in forbearance remained steady at 0.18%. Meanwhile, Ginnie Mae loans saw a 5 basis point decrease, settling at 0.52%. The forbearance share for portfolio loans and private-label securities (PLS) also experienced a 3 basis point decrease, reaching 0.32%.
"For the first time since MBA began tracking the reasons for forbearance in October 2022, temporary hardships such as job loss, death, and divorce represent a larger share of loans in forbearance by reason than a COVID-19 hardship," said Marina Walsh, MBA's vice president of industry analysis. "This upward trend will continue as Fannie Mae and Freddie Mac sunset the use of COVID-19 as a reason for delinquency starting in November 2023, and FHA's COVID-19 forbearance period ends at the end of November 2023."
Added Walsh, "Forbearance is still an option for many distressed homeowners, but in most cases, the requirements to obtain a forbearance will not be as streamlined as they were during the pandemic."
The survey also provided insights into the breakdown of loans in forbearance by investor type. Independent Mortgage Banks (IMBs) reported a forbearance rate of 0.36%, while depositories recorded a rate of 0.23%.
By reason, 45.4% of borrowers are in forbearance due to temporary hardships, while 43.3% are in forbearance because of COVID-19. Natural disasters account for 11.3% of forbearance cases.
The survey further categorized loans in forbearance by stage, revealing that 45.1% are in the initial forbearance plan stage, 47.0% are in a forbearance extension, and 7.9% are forbearance re-entries.
Regarding cumulative forbearance exits from July 1, 2020, to October 31, 2023, the survey reported the following:
29.4% resulted in a loan deferral/partial claim.
17.7% represented borrowers who continued making monthly payments during forbearance.
18.3% represented borrowers who exited forbearance without a loss mitigation plan.
16.1% resulted in a loan modification or trial loan modification.
10.8% led to reinstatements with past-due amounts paid back.
6.5% resulted in loans paid off through refinancing or selling the home.
1.2% were categorized as repayment plans, short sales, deed-in-lieus, or other reasons.
Regarding loan performance, the survey indicated that total loans serviced that were current as a percent of servicing portfolio volume slightly decreased to 95.80% in October 2023 from 95.83% in the previous month.
The survey also highlighted the states with the highest and lowest shares of loans that were current as a percent of servicing portfolio. The top five states with the highest share of current loans included Washington, Colorado, Idaho, Oregon, and California. Conversely, the bottom five states with the lowest share of current loans were Louisiana, Mississippi, Indiana, West Virginia, and New York.
Lastly, the survey reported that the total completed loan workouts from 2020 and onward that were current as a percent of total completed workouts increased to 72.30% in October 2023, up from 72.20% in the previous month, indicating positive outcomes for homeowners seeking assistance.