Mortgage Rates Cling To 7% Threshold, Dampening Homebuying Spirit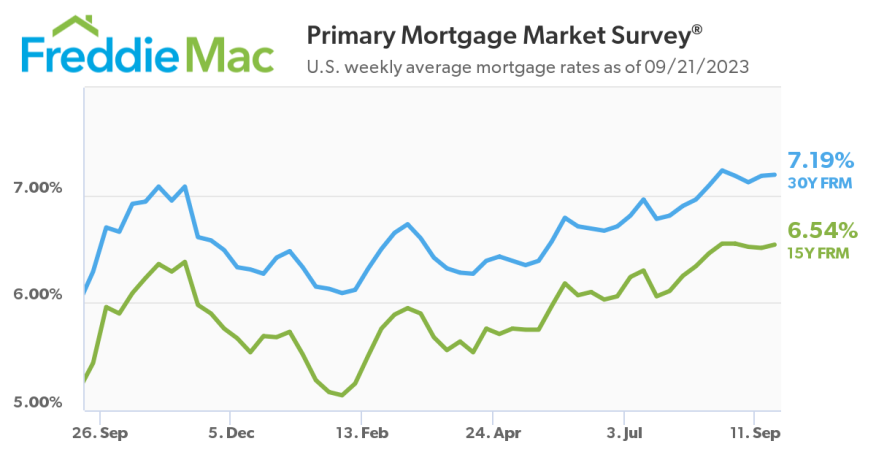 Freddie Mac reveals continued high rates amid cooling housing demand; construction sector hit hardest as potential homebuyers await fall for relief.
Mortgage rates remained steady at 7.19% prior to the Federal Reserve decision to hit the pause button on the central bank rate.
Freddie Mac's latest survey found the 30-year fixed rate mortgage averaged at 7.19%, marking a slight increase from the previous week's 7.18%. Compared to last year, when the 30-year FRM was at 6.29%, this rate continues to be a cause for concern among potential homebuyers.
"Given these high rates, housing demand is cooling off and now homebuilders are feeling the effect. Builder sentiment declined for the first time in several months and construction levels have dipped to a three-year low, which could have an impact on the already low housing supply," Freddie Mac's Chief Economist said.
Meanwhile, the 15-year fixed-rate mortgage also saw an uptick, moving from 6.51% last week to 6.54% this week, a notable jump from its 5.44% average a year ago.
Jiayi Xu, an economist at Realtor.com, provided a deeper insight into this trend.
"Looking ahead, the updated outlook from the Federal Reserve implies a forthcoming monetary policy that is 'tighter for longer'," she said. "With the year-end projection for 2023 remaining at 5.6 percent, we are drawing closer to another potential rate hike as the year approaches its end."
However, in this challenging housing market landscape, the upcoming fall might provide a glimmer of hope for potential homebuyers.
"Although the current housing market presents significant challenges, the fall typically ushers in more favorable buying conditions compared to the rest of the year. For those looking to purchase a home in this tough year, the first week of October will emerge as the best time to make a move," Xu said.
However, the journey for first-time homebuyers, especially those without home equity, remains tough. The silver lining might be the decreasing rental prices, which could keep many in the rental market, allowing them to save up for future homes. The current scenario, where buying has become less affordable than renting in most major U.S. cities, might lead to a more extended stay in the rental market for many households.