Mortgage Rates Fall For 3rd Straight Week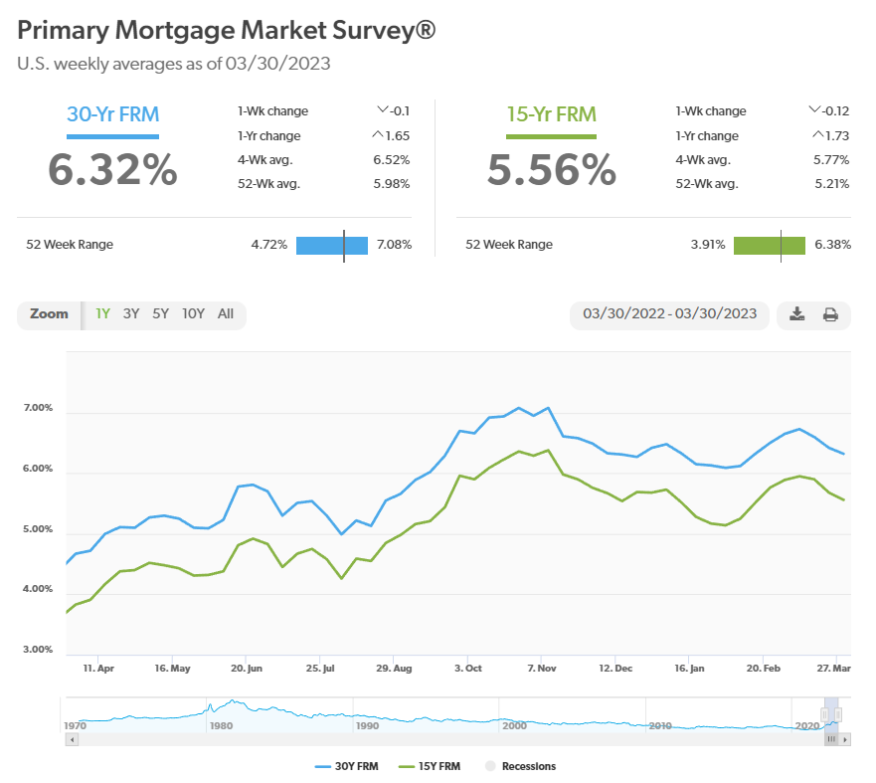 The 30-year mortgage dropped to 6.32%, lowest since mid-February.
Amid continued economic unrest, mortgage rates fell for the third consecutive week this week, Freddie Mac said Thursday.
According to the government-sponsored enterprise's Primary Mortgage Market Survey (PMMS), the 30-year, fixed-rate mortgage (FRM) averaged 6.32%, down 10 basis points and back to a level last seen in mid-February.
"Economic uncertainty continues to bring mortgage rates down," said Sam Khater, Freddie Mac's chief economist. "Over the last several weeks, declining rates have brought borrowers back to the market but, as the spring homebuying season gets underway, low inventory remains a key challenge for prospective buyers."
According to the PMMS:
The 30-year FRM averaged 6.32% as of March 30, down from 6.42% last week. A year ago, the 30-year FRM averaged 4.67%.
The 15-year FRM averaged 5.56%, down from 5.68% last week. A year ago, the 15-year FRM averaged 3.83%.
Freddie Mac's PMMS is focused on conventional, conforming, fully amortizing home-purchase loans for borrowers who put 20% down and have excellent credit.
Realtor.com economic research analyst Hannah Jones said mortgage rates fell as 10-year treasury yields climbed back into the 3.5% range.
"In response to recent bank instability, investors went searching for high land in the bond market, which nudged bond yields lower," Jones said. "However, as the uncertainty in the financial sector waned, investors shifted away from bonds, pushing bond yields back up."
She noted that mortgage rates tend to move with the 10-year treasury yield, which ticked up this week, but the spread between the two narrowed as mortgage rates moved down and the market continued to navigate ongoing economic uncertainty.
"As the dust settled after last week's [Federal Open Market Committee] meeting, markets adjusted to the short- and long-term implications of higher interest rates and the possibility of stricter lending requirements, along with a possible end to rate hikes on the horizon," Jones said. "These factors create a less hospitable borrowing environment, which would serve to bring inflation closer to a healthy level. More expensive, stricter lending helps to usher in the long-term health of the economy, but the downside is that borrowing for large purchases, including a home purchase, may be relatively more challenging in the short term."