Mortgage Rates Rise For 5th Straight Week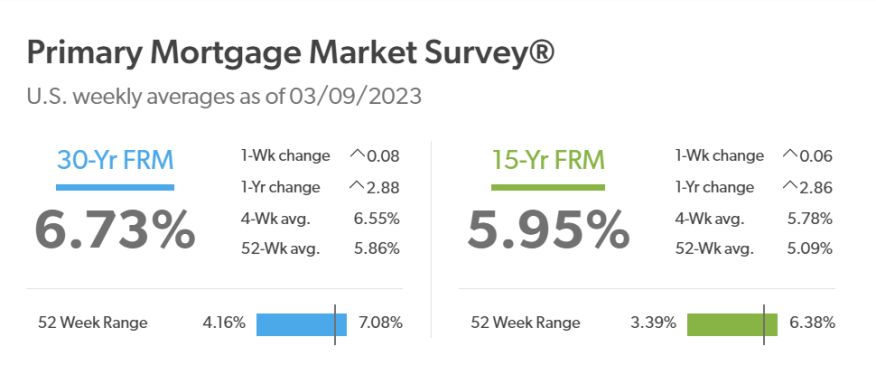 Rates climb closer to 7%; reach level not seen since November.
KEY TAKEAWAYS
30-year fixed mortgage rate up to 6.73%
15-year fixed mortgage rate up to 5.95%.
Make it five weeks in a row for mortgage rate increases.
Freddie Mac on Thursday said its Primary Mortgage Market Survey (PMMS) showed that both the 15- and 30-year fixed mortgage rates continued their slow, steady climb back toward 7%, with the rates at their highest level since November of last year.
According to the report, as of Thursday:
The 30-year fixed-rate mortgage averaged 6.73%, up from 6.5% last week. A year ago at this time, the 30-year FRM averaged 3.85%. This week's rate is the highest since the rate hit 7.08% on Nov.10, 2022.
The 15-year fixed-rate mortgage averaged 5.95%, up from 5.89% last week. At this time last year, the 15-year FRM averaged 3.09%. This week's rate is the highest since it was 5.98% on Nov. 17, 2022.
Freddie Mac's PMMS focuses on conventional, conforming, fully amortizing home purchase loans for borrowers who put 20% down and have excellent credit.
"Mortgage rates continue their upward trajectory as the Federal Reserve signals a more aggressive stance on monetary policy," said Sam Khater, Freddie Mac's chief economist. "Overall, consumers are spending in sectors that are not interest-rate sensitive, such as travel and dining out. However, rate-sensitive sectors, such as housing, continue to be adversely affected. As a result, would-be homebuyers continue to face the compounding challenges of affordability and low inventory."
Jiayi Xu, an economist with Realtor.com, said the Federal Reserve's recent about face on rate hikes spells trouble for mortgage rates.
"While last month Fed officials said that a smaller increase in the federal funds rate would help create a soft landing for the economy, [Chairman Jerome] Powell's testimony on Tuesday made it clear that the central bank is prepared to return to a faster pace of rate increases if the incoming February economic indicators remain strong," she said..
"Although investors have been talking about the possibility of faster rate hikes based on January's data, the stock market saw a sharp decrease on Tuesday, following Powell's statement," Xu said. "This suggests that investors were not fully prepared and are anxious about the Fed's upcoming actions. Uncertainty about how high rates will go and how long they will remain elevated makes it challenging for investors to make well-informed decisions. Therefore, it's crucial to keep a close eye on the latest developments from the Federal Reserve."
Still, she said, all is not lost for the housing market.
"While the current housing market may not look promising for sellers due to factors such as an increasing number of unsold homes, longer time on market, and decelerating price growth driven by high mortgage rates, there are still opportunities to be found," Xu said. "For example, recent sales data show that the share of first-time homebuyers is up compared to one year ago."
"As a result," she continued, "sellers with starter homes may see robust demand and retain some bargaining power."
Xu also noted that the widespread implementation of hybrid working models provide employees more flexibility to choose where to live, "allowing them to avoid expensive and congested urban centers. Consequently, this trend could make homes with easy access to public transportation systems more attractive to home buyers, which in turn, enhances bargaining power for the sellers."
Lastly, she said, for sellers who are also buyers "it is important to note that they can still leverage their record-high equity, even if they have to adjust their expectations to lower asking prices."