NAR: Pending Home Sales Fell For 5th Straight Month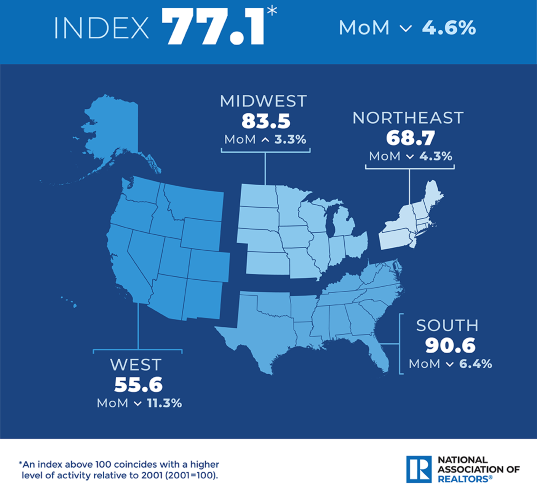 Realtor.com expects sales in 2023 to be down overall as well.
KEY TAKEAWAYS
The Northeast PHSI sank 4.3%.
The South PHSI dropped 6.4%.
The West index slipped by 11.3%.
The Midwest index increased 3.3% .
Home sales were down for the fifth consecutive month in October, according to the National Association of Realtors' (NAR) pending home sales report, and a new report from Realtor.com predicts that the dip will continue into 2023.
The NAR pending homes sales report found that three of the four U.S. regions recorded month-over-month decreases, while all four regions recorded year-over-year declines in transactions.
The Pending Home Sales Index (PHSI), a forward-looking indicator of home sales based on contract signings, sank 4.6% to 77.1 in October. Year-over-year, pending transactions slipped by 37%. An index of 100 is equal to the level of contract activity in 2001.
"October was a difficult month for home buyers as they faced 20-year-high mortgage rates," said NAR Chief Economist Lawrence Yun. "The West region, in particular, suffered from the combination of high interest rates and expensive home prices. Only the Midwest squeaked out a gain."
"The upcoming months should see a return of buyers," he added, "as mortgage rates appear to have already peaked and have been coming down since mid-November."
A breakdown of the regions shows: The Northeast PHSI sank 4.3% from last month to 68.7, a fall of 29.5% from October 2021. The Midwest index increased 3.3% to 83.5 in October, a decrease of 32.1% from a year ago.
The South PHSI dropped 6.4% to 90.6 in October, falling 38.2% from the prior year. The West index slipped by 11.3% in October to 55.6, sinking 46.2% from October 2021.
The Pending Home Sales Index is a leading indicator for the housing sector, based on pending sales of existing homes. A sale is listed as pending when the contract has been signed but the transaction has not closed, though the sale usually is finalized within one or two months of signing.
Pending contracts are good early indicators of upcoming sales closings, but the amount of time between pending contracts and completed sales is not identical for all home sales, NAR said. Variations in the length of the process from pending contract to closed sale can be caused by issues such as buyer difficulties with obtaining mortgage financing, home inspection problems, or appraisal issues.
The index is based on a sample that covers about 40% of multiple listing service data each month. In developing the model for the index, it was demonstrated that the level of monthly sales-contract activity parallels the level of closed existing-home sales in the following two months, NAR said.
Over at Realtor.com, its projections for 2023 predict prices will rise 5.4% in the 100 largest markets, but so will inventory, which their analysts predicts will increase 22.8%.
Realtor.com also forecasts that:
Average mortgage rates will hit 7.4% followed by a slight dip to 7.1% by the end of the year;
Rents will increase by 6.3% year-over-year and likely hit new highs; and
Home sales will dip 14.1% year-over-year to 4.53 million, the lowest level since 2012.
"Compared to the wild ride of the past two years, 2023 will be a slower-paced housing market, which means drastic shifts like price declines may not happen as quickly as some have anticipated," said Danielle Hale, chief economist for Realtor.com. "It will be a challenging year for both buyers and sellers, but an important one in setting the stage for home sales to return to a sustainable pace over the next two to three years."
Hale continued, "With mortgage rates continuing to climb as the Fed navigates the economy to a soft-ish landing, higher costs will lead to fewer closings, but that doesn't mean homebuying will stop entirely in 2023. Americans who are determined to make a move will find that staying up-to-date on the market, flexibility, creativity and a healthy dose of patience will go a long way toward success in the year ahead."
Other housing trends identified by Realtor.com include:
Because of hikes in rents, Realtor.com expects prospective homebuyers to have less money for down payments, leading some to consider exploring other options, such as adjustable rate mortgages (ARMs), a trend that has begun to take shape in 2022.
With mortgage rates still high early in the year, spring buying is expected to be slow, but as rates decline slightly sales could get a bump in the second half of 2023.
This isn't '08: During the mid-2000s housing boom, home sales were elevated for more than five years, and it took another five years for home sales to recover from the economic aftermath. Comparatively, mortgage rate hikes have brought a quicker but less dramatic end to the recent frenzy, during which buyers have been better qualified than in '08. Moving forward, home price growth will slow and may even decline periodically as prices largely stabilize over the next two-to-three years. The homeownership rate is predicted to hold in 2023.
In 2023, the typical homeowner is projected to gain $25,650 in equity as prices keep rising. With real estate wealth already much higher than pre-COVID, these trends offer a positive reality check for sellers who have been increasingly pessimistic about entering the market as listing prices have pulled back from last year's peak. While bidding wars won't be the norm in 2023, sellers who have owned their home for a longer period of time are still likely to make a profit. And those living in relatively affordable areas may still command offers above asking, driven by continued home shopper interest in relocating to lower-priced markets.
2023 will put the "wild" in wildcard. Political and economic events can always shake up the housing outlook, as was the case with major financial shifts in 2022. Along with factors including supply chain disruptions and the conflict in Ukraine, markets have largely begun to adjust for these changes, such as with the Fed's efforts to combat inflation with rate hikes. As such, Realtor.com's forecasted 2023 housing trends don't anticipate a major shakeup like a recession, but it's still a possibility, so buyers and sellers should keep an eye out for risk signs like a substantial weakening in the jobs market, beyond the mild uptick in unemployment that is projected, as businesses are potentially disrupted by shifting geopolitical, financial and economic conditions. Although a potential recession may lead to lower mortgage rates, ultimately buyers' purchasing power would suffer. For sellers, this would likely mean less demand and potential price drops.
"Of the many factors that are expected to affect the housing market in 2023, affordability tops the list of issues most likely to make or break buyers' plans," Hale said. "Still, our forecast does offer promise for home shoppers who are well-prepared."