S&P Case-Shiller Indices: Home-Price Trends Moderated In February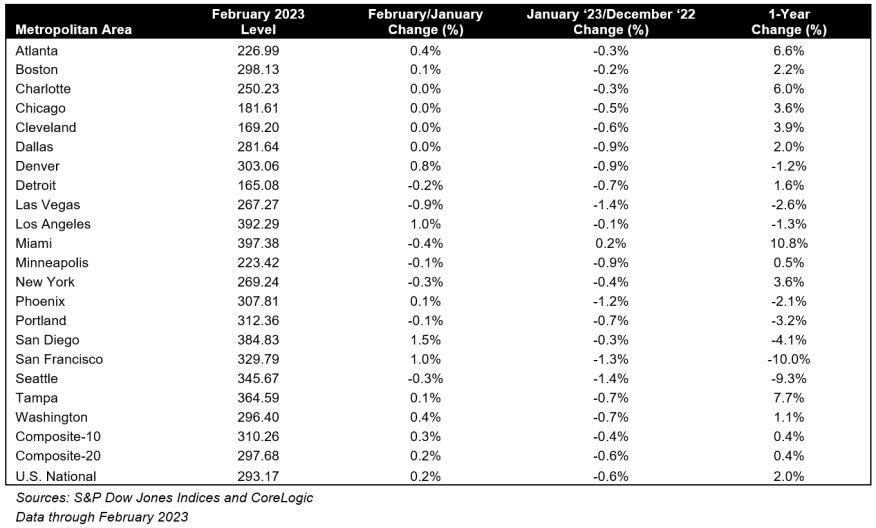 S&P Index reported a 2% annual gain in February, down from 3.7% in January.
KEY TAKEAWAYS
Slight increase in home prices nationally, although eight of the 20 major metro markets reported lower prices.
From the West to the Southeast, regional housing trends stand in stark contrast.
Home prices saw a slight bump nationally in February, according to the latest S&P CoreLogic Case-Shiller Indices.
Covering all nine U.S. census divisions, the S&P CoreLogic Case-Shiller U.S. National Home Price NSA Index reported a 2% annual gain in February, down from 3.7% reported in January.
"With or without seasonal adjustment, most cities' February results showed improvement relative to their January counterparts," said Craig J. Lazzara, S&P DJI managing director.
After seven consecutive months of declines, the National Composite Index now stands 4.9% below its June 2022 peak after a modest 0.2% rise in February. The 10-City Composite Index posted an annual increase of 0.3%, with the 20-City Composite Index lagging only slightly, up 0.2%. On a year-over-year basis, the 10-City and 20-City Composites are both up 0.4%.
The National Composite is only 2% above its level in February 2022. "February's results were most interesting because of their stark regional differences," Lazzara said, as eight of the 20 major metro markets reported lower prices.
This reflects the divergence of regional housing trends in response to higher mortgage rates and lower affordability across the board, according to Realtor.com Chief Economist, Danielle Hale.
Hale attributes the moderation to February's slight drop in mortgage rates. "February home sales data suggest that a good number of buyers who had been sitting on the sidelines took advantage of this reprieve in mortgage rates, and this helped propel prices up for the month (0.2-0.3% for the national and composite indices) on a seasonally adjusted basis," she said.
The West (-4.2%) continues to be the country's weakest region, as Las Vegas (-2.6%), Phoenix (-2.1%), Los Angeles (-1.3%), and Denver (-1.2%) join San Francisco, Seattle, San Diego, and Portland in negative year-over-year territory.
Meanwhile, the Southeast continues to be the country's strongest region, as Miami, Tampa, and Atlanta again reported the highest year-over-year gains among the 20 cities in the index. Miami (+10.8%) — the best-performing city for the seventh month running — Tampa (+7.7%), Atlanta (+6.6%), and Charlotte, N.C., (+6%) all saw notable price increases.
Despite February's gains, "the results released today pre-date the disruptions in the commercial banking industry which began in early March," Lazzara said. With inflation-reduction measures remaining the Federal Reserve's focus, "mortgage financing and the prospect of economic weakness are therefore likely to remain a headwind for housing prices for at least the next several months," he said.