Barry Habib Helps Navigate the Minefield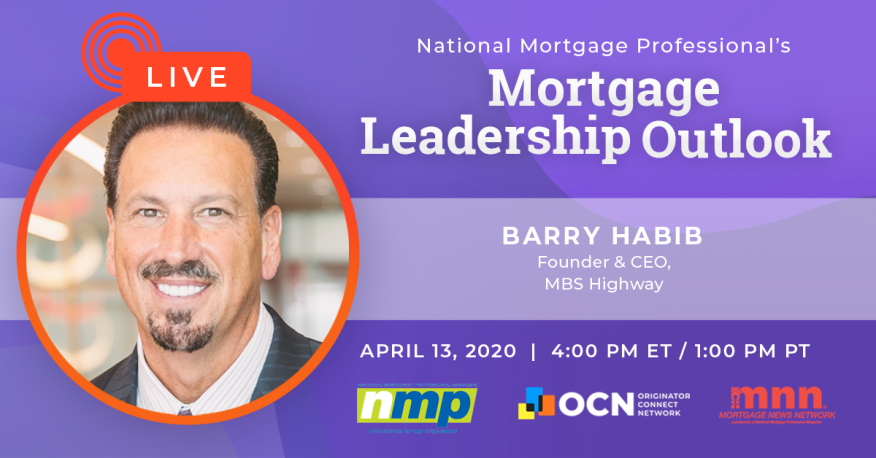 On Monday afternoon's
Mortgage Leadership Outlook livestream
, host Andrew T. Berman, head of engagement and outreach for
National Mortgage Professional
magazine, sat down with Barry Habib, founder and CEO of
MBS Highway
, to discuss a number of topics as the nation continues to struggle though the COVID-19 pandemic.
Among the subjects Habib addressed was the prospective timeline as to when things in the tumultuous economy would return to normal. A
two-time winner of the Crystal Ball Award
, presented by Zillow and Pulsenomics, Habib was recently recognized as of the nation's top economists, based on the accuracy of his predictions of future real estate trends.
Darkness blankets a once bright market
"The year 2020 was going to be a great year for the mortgage business, because rates were heading much lower," said Habib, who in 2019, was named
National Mortgage Professional magazine's "Mortgage Professional of the Year
. "The real estate market was booming and in great shape and that was one of the bright spots that will lead us out of this, although there are some challenges."
Habib noted that the recovery of the housing marketplace will be directly correlated to the decline in unemployment claims.
"The mortgage environment was headed for another banner year, and many strong years in fact. I still think we will get there, but we have some landmines in front of us, and are probably going to be in a position where there will be more business than we can handle for the next couple of years," said Habib. "Once real estate comes back, we are going to come back to a market where you have more demand than supply on the residential side."
A flawed system
In terms of unemployment, Habib blames an antiquated system and architecture on the reporting of numbers that are false in most cases. The archaic back-end of the Department of Labor's back-end flows through COBOL systems, as parts of the federal and state governments built their entire infrastructure on this near 40-year-old computer language.
"Potentially a little over 20 million people that are unemployed right now, but I think those numbers are understated," said Habib. "When you look at states like California and New York, their numbers were much lower than the rest of the country, and we think that is because we are hearing reports all over the country of systems crashing for the ability for unemployment to be calculated. That's because many of these systems are antiquated. In fact, the platform for programming that was used is COBOL."
Habib described a two-step approach to economic recovery.
"The phase we are in now is a lockdown phase," described Habib. "We are going to go through an un-lockdown phase, which will be a return to normal for some things, just not everything. We certainly will not feel good about hugging each other at that point, we still have to be cautious. We still have seasonality which will help. Potentially in May, we may have a therapeutic response that can help as well, but it's not a fix yet."
The improvement in employment numbers will jump start the economy, which in turn, will nudge the housing market back to greener pastures once a true recovery begins. But as Habib noted, "I think it's a little naïve for people to think it is will be a 'V-Shaped' recovery, in which it goes way down and right up … how is that going to happen? It's also silly to think a 'U-Shaped' recovery will take place. The latter part of this is not going to be a straight line, it's going to be in fits and starts and will be difficult to have it come online as quickly as we would like to where we can say, 'Everything is back to normal.' It's not going to happen that way, but it will continuously get better and that's a good thing."
The hidden price of forbearance
As Habib noted, some of the factors that may hinder a full recovery of the housing market may be correlated to measures that our proactive government took to assist a nation of homeowners struggling to make their mortgage payments.
"The things hurting our industry right now are the forced shutdown, forbearance and the risk of unemployed people not making their payment or going into default," said Habib. "Those are the risks out there and because of these risks, you think about the waterfall here."
Habib feels that the government may have done the servicing sector a disservice by those who may abuse the GSEs' forbearance programs.
"You should make people at least prove hardship," said Habib. "Forbearance is actually helpful to the housing market because you don't have all these homes in foreclosure and put up for sale. So it is actually helpful, but they gave a license to be able to abuse it which didn't make sense to me, but that's what we are dealing with which is why you have such risk out there."
And while a forbearance is a solution to many, Habib noted there is a hidden cost that may in fact be detrimental to the borrower.
"We know that people who need a forbearance can now get it and that's a good thing for the housing market as it helps it to remain stable. But the weight of this could be very detrimental for housing, and it could be detrimental to the borrower," said Habib. "If you look at how an amortization schedule works, for every payment made, the subsequent payment is a greater allocation toward principal and interest. So if you miss payments for a year, now you are in year two and you are actually losing money each and every month. There is a hard cost for this that people will be surprised by, and I think if they knew this hard cost, they would think twice about entering into a forbearance when they don't have to. If you have the money, just pay it. You are not going to make money in your checking account, but it's going to cost you on the amortization schedule."
Previous guests in the Mortgage Leadership Outlook series include Rick Sharga, Gary Malis, Patrick Stone, Robert Senko, Samir Dedhia, David H. Stevens, Peter Norden, Rob Chrisman and more. Click here to see all the interviews from the Mortgage Leadership Outlook series on its YouTube channel.