Carl White Says LOs Need to be Aware of the 'Cost of Inactivity'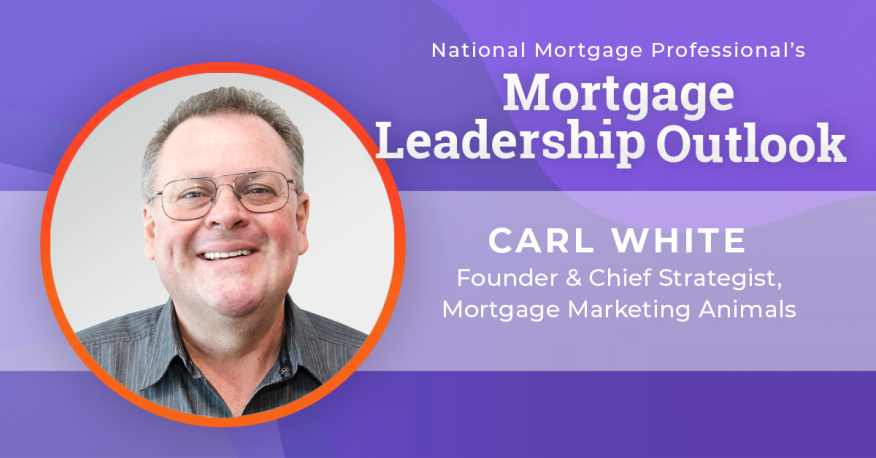 The Mortgage Leadership Outlook series features some of the top names in the mortgage industry, giving their commentary on the current state of the industry as it navigates through the COVID-19 pandemic.
White has almost two decades of experience in the industry, working as a loan officer for Family First Mortgage from 2000-2004, and now working as a branch manager for Success Mortgage Partners.
The cost of inactivity
White believes that the biggest expense loan officers have is COI (Cost of Inactivity). He says there has never been a better time to connect with your database. He says Success Mortgage Partners took more loan applications this month than it ever has in its history for a single month.
White recommends calling your past database four times a year. He says if you don't have a past database, call your friends. For White, he believes it's important for loan officers to understand that they are offering help to these individuals, not trying to sell them on something.
White says it's all about relationship-building right now to secure future business. Upon contacting his clients, he approaches the situation usually by listening to what they have to say. He takes the information given him and looks for refinance opportunities or anything else to help them.
Staying positive is also highly recommended when you're speaking to customers. White says never give a customer a negative impression. Those conversations are for your family and friends, not for you to have with customers. Another good way to derive business from a client is to talk about what they are seeing other folks in their situation do. White says he would bring up an example or an option and ask them if this is something they are interested in doing.
Traffic, team and time
White spoke about the way he has broken down the week into a more efficient way of working to reduce the incredible number of hours loan officers work. Traffic, team and time is the formula White uses, and says it enables him to close loans in a 32-hour work week. White said that last month, his team closed between 600-700 loans.
He is a big advocate of taking the least number of steps to get him to the desired result, and believes that lies in being able to leverage everything you do.
"The secret to any business is leverage," said White. "We're leveraging other people and trust me they're leveraging us too. My team leverages me to drive the traffic and I leverage them to take that traffic and close on it."
White said that most of his team is working 50/50 from home and from the office. He says that it didn't change much for the industry in terms of the virtual aspect that many have moved to. He believes that it became the catalyst for driving companies to carry more operations remotely.
Virtual appointments have never been more receptive, never converted better, and never been easier to do than they are now, according to White. He believes that it's going to be the way his company handles business in the future.
Prospecting for new business
White says you should not start prospecting for new business until you contact everyone in your database. He says calling people that you know first will convert more quickly.
That being said, White says for new prospects you can go consumer direct or referral partners. In terms of consumer direct, White believes it's very expensive, not scalable and conversion ratios are very low.
He prefers to go with referral partners because each partner has about 300 people in their database. He says he would call referral partners that have referred to them in the last two years. Listing agents are also another preferred option of contacts for converting new business.
White would later touch upon the free Loan Officer Survival Kit that he and his team are working on. He says it features information that members usually pay for, but they gave him the go ahead to offer it to loan officers to support them looking to do more during the COVID-19 crisis.
You can learn about the Loan Officer Survival Kit and more by checking out White's complete interview with Berman below.
Previous guests in the
Mortgage Leadership Outlook series
include Barry Habib, Rick Sharga, Gary Malis, Robert Senko, Samir Dedhia, David H. Stevens, Peter Norden, Faith Schwartz, Rob Chrisman and more. See all the interviews from the Mortgage Leadership Outlook series on its
YouTube channel
.