News From NAMB: August 4, 2016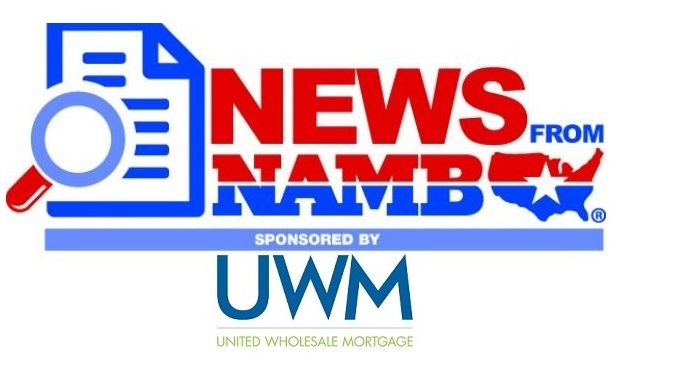 You may have noticed that News From NAMB is not just links to other media stories but also goes to primary sources. News From NAMB is different because we find important information that may not be reported elsewhere and we comment on why it is relevant to you, often in a fun way. Best of all, it is free to NAMB members. News From NAMB is sponsored exclusively by United Wholesale Mortgage. 
United Wholesale (Advertisement)
The Conventional 1% Down Program with Equity Boost makes it easier than ever to get your borrowers into their new home. Here's how it works: Your borrower puts down 1%, UWM contributes 2% toward the down payment, giving them 3% equity at closing. It's a great way to offer a low down payment, a competitive rate and a good head start — and it's only at UWM. Learn more at www.uwm.com. 
---

FHA Loans Should Have Water Tests, Even of City Water
I know you think I have flipped but that is what HUD's Inspector General has ruled.  The Inspector General is blaming FHA and lenders for not having tested the water before giving loans in Flint, Michigan where the city water contained lead.  Worse yet, the IG is saying the lenders should have to indemnify HUD for 144 loans and/or make certain the water is tested and potable.  It is presumed the lenders will be required to do whatever it takes to give the houses safe water.  Considering the water comes from the Flint River and the city, it remains to be seen if installing water filters will solve the problem.  Looks like we may be back to water, septic, termite, and other tests for FHA loans.
---
Proposed TRID Rule Released
Everyone wondered what changes the CFPB would propose in its Know Before You Owe (TRID) rule.  We need guess no longer.  The proposed rule allows for sharing disclosures with parties like Realtors (no surprise).  It also closes a loophole, making loans to a family or financial planning trust and Co-op loans covered.  If you do construction loans, you definitely need to pay attention.  Overall, the changes didn't address any of the real hotspots like the double 3-day period on refis.  It kind of addresses the "black hole" that exists once a closing disclosure has been issued and changes need to be made.  There are tons of changes that will drive software developers crazy.  The changes will probably cost hundreds of millions of dollars in software re-development not to mention costs to retrain people. The CFPB can't seem to figure out what rounding they really want among other issues.
---
NAMB National Free Admission Ends Next Week!
Exhibitors at NAMB National have bought tickets for you to attend NAMB National for free but you must register yours by Wednesday, August 10th.  After that, it will cost you $395 to attend and there are no exceptions.  NAMB National is the largest trade show for mortgage originators in the United States.  Learn about new wholesale lenders and new loan programs.  Plus, learn how to sell more loans and keep compliant with rules that are constantly changing.  There are thousands of $$$ in giveaways too!  It all happens September 24-25 at the Luxor Las Vegas.
---
Home Ownership Hits All-Time Low
The Census Bureau reported that only 62.5% of Americans own their home as the 2nd quarter of 2016.  That sets and all-time record low, plunging from the all-time high of 69.2% in 2004.  Many expect it to drop even lower.  Conversely, rental rates have nearly doubled since 2001   Nearly 78% of Americans over age 74 own their home while only 34% of those under age 34 own a home.

New Law Creates Big Changes to FHA and USDA
President Obama signed into law H.R. 3700, the bill that changes FHA rules on condominiums and gives USDA the ability to implement something similar to FHA DE underwriting and guaranty.  This could mean no more files being shipped to USDA.  FHA condo approval will no longer require resubmittal every 2 years, just updated data.  FHA must lower the restrictions on commercial space, be more lenient on private transfer fees, and lowers the owner occupancy percentage to 35%.

Fannie Eases HomeReady Requirements
Fannie Mae has eased the educational requirements for its HomeReady 3% down program. Fannie will no longer require homeownership education for limited cash-out refinances and owner-occupants can own other residential properties.  Fannie is dropping the requirement that 2-4 unit property owners must take an additional landlord education course.  Finally, Fannie will allow down payment assistance and second mortgages from companies working with HUD-approved nonprofit counseling agencies.

FinCEN Investigating Foreign Buyers of Real Estate
The Treasury Department's Financial Crimes Enforcement Network is looking into foreign borrowers who are buying high-end U.S. real estate.  FinCEN will require certain U.S. title insurance companies to identify the natural persons behind companies used to pay "all cash" for high-end residential real estate in Manhattan and Miami.  The suspect corrupt foreign officials, or transnational criminals, may be using premium U.S. real estate to secretly launder millions in dirty money.  Make certain you are checking.  The fines can be hefty for not looking.

CFPB Says They Can Investigate Anyone
Dodd/Frank created the CFPB to make certain consumers' financial transactions were fair.  Specifically exempted were real estate sales companies and car dealers.  That has not stopped the CFPB from investigating and even taking action against these companies.  Recently, Director Cordray turned down an appeal from a real estate company to cease its investigation since real estate firms were excluded from its authority in Dodd/Frank.  Cordray said the CFPB may not have enforcement authority but we can investigate if we want to and denied the appeal.  Cordray got his hand smacked by a federal judge for trying the same thing with for-profit colleges earlier this year.  Obviously, that has not deterred him.

Changes Coming to NMLS
NMLS will be holding a training session next Friday that will introduce some changes you will need to know about.  This fall, NMLS will do away with paper surety bonds.  Everything will be electronic.  Unlicensed Control people will now need to be fingerprinted.  More documents will be uploaded instead of sent to state regulators, etc.  You can register now for the training session.

CFPB Complaint Database to Become Like Yelp
Currently, borrowers have the right to post a "dispute" narrative in the CFPB database if they didn't like how the lender handled the complaint.  The CFPB is proposing that positive comments can be posted about complaint handling as well.  The consumer could rate the lender's complaint handling with a 5-point rating scale and the narrative.  Notoriously missing is the lender's ability to post a dispute narrative, something companies were afraid to do, so this is kind of one-sided.  The CFPB has posted their idea in the Federal Register looking for your input.  Let them know what you think.  It may matter a little.

Will Treasury Lose the Lawsuit by Fannie and Freddie Investors?
A senior member of the House Financial Services Committee, Michael Capuano, says "Yes."  Investors Unite, a group formed by GSE investors, believes new, unsealed documents prove the Treasury Department exceeded its authority by violating HERA.  The way it is beginning to shake out, Democrats want to recapitalize Fannie and Freddie and Republicans are split on the issue. leaning toward a new entity.

Fannie, Freddie Mac Have Much Better Quarters
In the first quarter of 2016, Freddie Mac lost $354 million dollars.  This past quarter, Freddie earned $993 million.  Freddie has a habit of playing ping-pong with its profits.  The 3rd quarter of 2015 it lost $475 million only to turn a $2.2-billion-dollar profit in the last quarter of 2015.  Based on the results, Freddie would have a $2.1 billion net worth but all of this money will go to the U.S. Treasury as a kind of tax on home financing.  Fannie Mae turned in a $2.9 billion-dollar profit and says it expects to remain profitable.

TIAA is the Company Who Will Likely Buy Everbank
TIAA, the giant financial services company with over $854 billion under management, is the likely purchaser of Everbank.  It appears TIAA, formerly known as TIAA-CREF, wants to get into internet banking.  They have been on a buying spree lately.  Their interest in the mortgage side of Everbank is unknown.  They already offer mortgage through their internal bank and TIAAdirect.

G-Fees Rose Little in 2015
Another bright spot for borrowers is Fannie and Freddie are holding the line on Guarantee Fees, those fees that are added on to compensate for risk.  These fees have been under attack by various trade groups, calling for their elimination.  The fees only rose 2 basis points in 2015 bring them to 59 basis points total.

Mortgage Applications Continue Downward Slide
Mortgage applications were 3.5% lower than last month according to an MBA survey.  Both purchase and refinances were down, despite extremely low rates.  At least purchases were still a little better than this time last year.

Fannie/Freddie Still Won't Purchase PACE Loans
Governor Jerry Brown of California is ticked at Fannie and Freddie because they won't go behind PACE energy efficiency loans.  That prohibits borrowers from refinancing into a Fannie or Freddie loan where a PACE 1st exists.  It would seem to make more sense to call out the PACE lien holders to get them to subordinate since these are collected on the tax bills.  FHA allows loans with PACE liens in effect.  About 70,000 Californians are affected.

CoreLogic Says Home Prices Still Headed Up
CoreLogic is showing June home prices still headed up.  Prices climbed 5.7% over June of last year and 1.1% over May.  NAR's report comes out August 10th for the 2nd quarter and Case/Shiller doesn't release June figures for several more weeks.

Quicken Runs Into Trouble on Employment Practices
Many employers make their employees sign agreements that they won't tell anyone about working conditions or say anything negative about the employer or their job.  Quicken had such policies.  Nothing negative about the company was allowed.  The National Labor Relations Board came down on Quicken for these policies and an appeals court upheld the NLRB.  So, if you want to grumble and complain, it looks like you are free to do so.

Great Golfing This Year at NAMB National
Royal Links Las Vegas has recreated 11 of the most fabled holes in the world of golf all into one course.  You can play the "Postage Stamp" at Royal Troon and the "Road Hole" at St. Andrews and other holes from world-famous courses. This is a once-in-a-lifetime golfing opportunity with all proceeds going to NAMB's Legislative Action Fund.  It's just five-minutes from the Las Vegas Strip.  Join NAMB on Sunday, September 25, 2016.  This could sell out so register online to ensure your place.  Onsite registration begins at 6:30am PT and Shotgun start is promptly at 7:00am PT.

Rate Outlook
With the release of another weak Gross Domestic Product month-over-month, we appear to be in an economic slowdown.  That is good news for rates but not normally for jobs.
With the Federal Reserve passing on a rate hike this month, things in that arena are likely to be peaceful until September since there is no August meeting.  If they pass again in September, the next meeting is in November.  It is unlikely the Fed would raise rates then because it is only a few days before an election.
Tomorrow, we get the biggest economic news of the month, the Bureau of Labor Statistics jobs report.  The forecast is that jobs will be more like June than the anemic month of May.  If that is the case, and it repeats in September, the Fed may decide to just go ahead and raise rates in September.  Remember, they really want to raise rates so sooner or later they will, barring a disaster.
There is always a lot of economic news in the first week of the month.  So far, news this week has been somewhat negative and good for rates.  Construction spending was down .6% when they expected a .6% increase.  The ISM Index, which measures manufacturing sentiment, came in at 52.6, slightly below expectations.  Personal income rose .2%, PCE inflation was .1%, indicating there is hardly any inflation or wage appreciation.  ADP's jobs report was about average at 179,000.  New claims for unemployment registered at 269,00, edging up just as little.
While not as important as the jobs report, trade data comes out tomorrow as well.  If the trade deficit lowers it could bring lower rates and a higher deficit would tend to push rates up a little.  Experts are projected little change.
John Councilman, CMC, CRMS of AMC Mortgage Corporation in Ft. Myers, Fla. is immediate past president of NAMB—The Association of Mortgage Professionals. He may be reached by phone at (239) 267-2400 or e-mail [email protected]