HSH.com: Drop in Rates to Signal Refi Rebirth?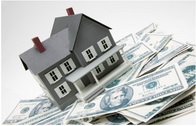 Rates on the most popular types of mortgages declined substantially according to HSH.com's Weekly Mortgage Rates Radar. The average rate for conforming 30-year fixed-rate mortgages fell by 10 basis points (0.10 percent) to 4.09 percent. Conforming 5/1 Hybrid ARM rates decreased by 12 basis points (0.12 percent), closing the Wednesday-to-Tuesday wraparound weekly survey at an average of 3.10 percent.
"This week's 10th of a percentage point drop might be enough to create new interest in refinancing," said Keith Gumbinger, vice president of HSH.com. "At the very least, someone who is involved in a mortgage transaction now should consider locking in an interest rate. In terms of rate movements, the last few weeks have been more volatile than we've seen for a while, and a beneficial decline today could just as easily be a jump tomorrow."
In times of market stress, both domestic and foreign investors tend to sell riskier assets such as stocks and move funds into relatively safe investments, such as U.S. Treasury bonds, and to a lesser degree, U.S. mortgage-backed securities (MBS). The corresponding surge in demand raises the prices of these bonds, trimming the yield they provide. Current mortgage rates are influenced by these declining yields, much to the benefit of American mortgage shoppers.
"Although the U.S. economy is doing pretty well, that's increasingly not the case for other economies," said Gumbinger. "Fresh concern about the pace of growth in the Euro zone and other developed markets continues to give investors the jitters. As a result, they continue to plow money into the relative safety of U.S.-based investments."
Average mortgage rates and points for conforming residential mortgages for the week ending Oct. 14, according to HSH.com:
Conforming 30-year fixed-rate mortgage
►Average rate: 4.09 percent
►Average points: 0.20
Conforming 5/1-year adjustable-rate mortgage
►Average rate: 3.10 percent
►Average points: 0.12
Average mortgage rates and points for conforming residential mortgages for the previous week ending Oct. 7 were, according to HSH.com:
Conforming 30-year fixed-rate mortgage
►Average rate: 4.19 percent
►Average points: 0.16
Conforming 5/1-year adjustable-rate mortgage
►Average rate: 3.22 percent
►Average points: 0.12