Auction.com: Existing-Home Marketing Flatten Out in November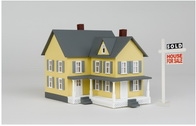 Auction.com LLC has released the November Auction.com Real Estate Nowcast which projects that existing home sales for the month will fall between seasonally adjusted averages of 5.05 and 5.46 million annual sales, with a targeted number of 5.25 million. This prediction suggests that sales will be essentially flat compared with October's higher-than-expected 5.26 million sales figure, which was released on Nov. 20 by the National Association of Realtors (NAR).

The Auction.com Real Estate Nowcast combines industry data, proprietary company transactional data and Google search activity to predict market trends as they are occurring—weeks before the findings of other benchmark studies are released. If the company's latest Nowcast projection is as accurate as it was in October, November existing home sales will show a marked improvement from November 2013, when sales dropped to a seasonally adjusted average of 4.90 million, down from 5.12 million in the prior month.

"The housing market, while not growing rapidly, is at least maintaining its current momentum rather than taking a step backwards," said Auction.com Executive Vice President Rick Sharga. "It's encouraging to see sales activity hold steady, or improve even marginally, considering all the headwinds the market is facing – tight credit, low inventory, less investor activity and relatively weak demand."
Auction.com analysis suggests that although investor purchasers still play an important role in the market, their activity is down compared to earlier in the housing recovery. According to NAR, the percentage of all-cash sales, which tends to be primarily investors, increased to 27 percent of total sales in October, up from 24 percent in the previous month, but off the 31 percent level seen a year ago. Sharga noted that Auction.com is continuing to see strong interest from real estate investors at its auctions, but that there have been noticeable changes in this market segment.
"We've seen buying activity slowing down among the largest institutional investors, and some of this activity replaced by mid-sized companies and individuals looking to buy and rent out single family homes," said Sharga. "The asset class seems likely to continue to grow, but the share of inventory purchased by the largest funds appears to be shrinking."
Also affecting the housing landscape is the limited number of new buyers entering the market. First-time homebuying has remain constrained, accounting for just 29 percent of total sales in October and staying below 30 percent for 18 of the past 19 months, with this range being the lowest in nearly three decades according to a NAR study.

"Less than six month's inventory—and very little at the entry level of the market—coupled with tight credit make it extremely challenging for new buyers," Sharga said. "And neither situation is likely to improve soon."
Inventory levels typically decline in winter months, and a recent survey conducted by Collingwood Group concluded that 71 percent of lenders are unlikely to loosen credit standards.