HOPE NOW Reports 34,000-Plus Loan Mods Granted in November
HOPE NOW has released its November 2014 loan modification data, which found that an estimated 34,000 homeowners received permanent, affordable loan modifications from mortgage servicers during the month. This total includes modifications completed under both proprietary programs and the government's Home Affordable Modification Program (HAMP).
Total non-foreclosure solutions (the combination of total loan modifications, short sales, deeds in lieu and workout plans) for the month of November were approximately 136,000. This compares to approximately 28,000 foreclosure sales for the month. For the month, non-foreclosure solutions outpaced completed foreclosure sales by a five to one margin. For the year to date, non-foreclosure solutions are outpacing foreclosure sales by approximately four to one (1.7 million solutions vs. 426,000 foreclosure sales).
Of the permanent loan modifications completed in the month of November, an estimated 23,000 were through proprietary programs and 11,003 were completed via HAMP. Loan modifications have largely declined month to month, corresponding with the lower number of foreclosure sales. This is a direct result of the falling number of serious delinquencies.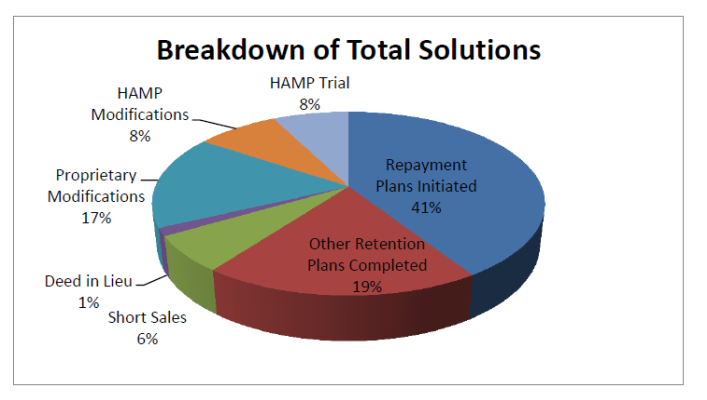 The 136,000 total non-foreclosure solutions for the month of November brings the industry total to over 23 million since HOPE NOW began recording data in 2007. The total number of permanent loan modifications stands at approximately 7.3 million. Proprietary loan modifications make up approximately 5.9 million of that total and 1,437,731 loan modifications have been completed via HAMP.  
The 28,000 foreclosure sales recorded for the month of November represents the lowest monthly total since HOPE NOW began recording data in 2007. This represented a 27 percent decrease from the approximately 39,000 recorded in the month of October. Foreclosure starts in November also declined from the previous month, with approximately 60,000 reported vs. 65,000 for October—a decrease of eight percent.
Delinquencies of 60 days or more remained under two million—at approximately 1.97 million. This represented a slight increase (three percent) from the previous month (1.91 million). Delinquency data is extrapolated from data received by the Mortgage Bankers Association (MBA) for the third quarter of 2014.
Other Key Metrics: November vs. October 2014
►Loan Modifications: Approximately 34,000 completed in November vs. 39,000 in October—a decrease of approximately 14 percent.
►Short sales: Approximately 8,700 completed in November vs. 10,400 in October—a decrease of 17 percent.
►Deed in-lieu: Approximately 1,900 completed in November vs. 2,300 in October—a decrease of 20 percent.