Lenders Compliance Group Forms TEAM TRID for Compliance Preparation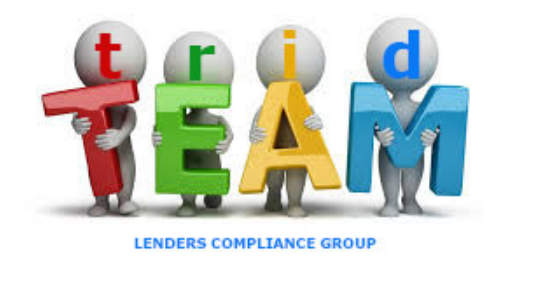 Lenders Compliance Group Inc. (LCG), a mortgage risk management firm, has announced the formation of TEAM TRID, a hands-on compliance solution to implementing TILA-RESPA Integration Disclosure (TRID) integration. LCG has put their own team together, consisting of subject matter experts in all relevant areas of regulatory compliance, the purpose of which is to ensure that TRID requirements are implemented for their clients and financial services institutions with a need for compliance support. The compliance effective date for TRID is set for Aug. 1, 2015.
"My concern for several months now has been the misinformation, opinions, pontifications, Webinars, seminars, assumptions, admonitions, speculations, disinformation, inaccuracies, exhortations, hedged answers, proclamations, tenuous training, costly forums and other pay-to play venues, that have been heartily stalking mortgage lenders and originators," said LCG President and Managing Director Jonathan Foxx. "Some purveyors of information are charging as much as $6,000 just for TRID manuals, not counting the expensive training fees and hourly hand-holding fees! In my view, people need reasonably priced, expert support at this time, not yet another guide for the perplexed, costly training modules, and stop watch, hourly counseling charges."
The compliance solution offered by LCG is a hands-on approach, offered on a flat fee basis. By retaining Team TRID, mortgage lenders, mortgage brokers and mortgage servicers will receive the tools needed to implement TRID.
According to the Team TRID methodology, clients will receive:
►Webinar and Overview: Four Step Method-Planning Steps
►Webinar and Overview: Loan Estimate
►Webinar and Overview: Closing Disclosure
►Published & Advance Copies of White Papers
►Implementation Checklists for: Mortgage Lenders, Mortgage Brokers and Settlement Agents
►Virtual Roundtables
►Consultations on TRID Implementation
►Access to Subject Matter Experts
"The difference between us and the cottage industry of information pundits is that we provide an actual team of hands-on experts to work with a client, and we do not charge for forms, checklists, and procedures guidance," said Foxx. "We move at the client's pace. There is no hourly fee!"