New Data Finds More Available Mortgage Credit, Fewer Foreclosures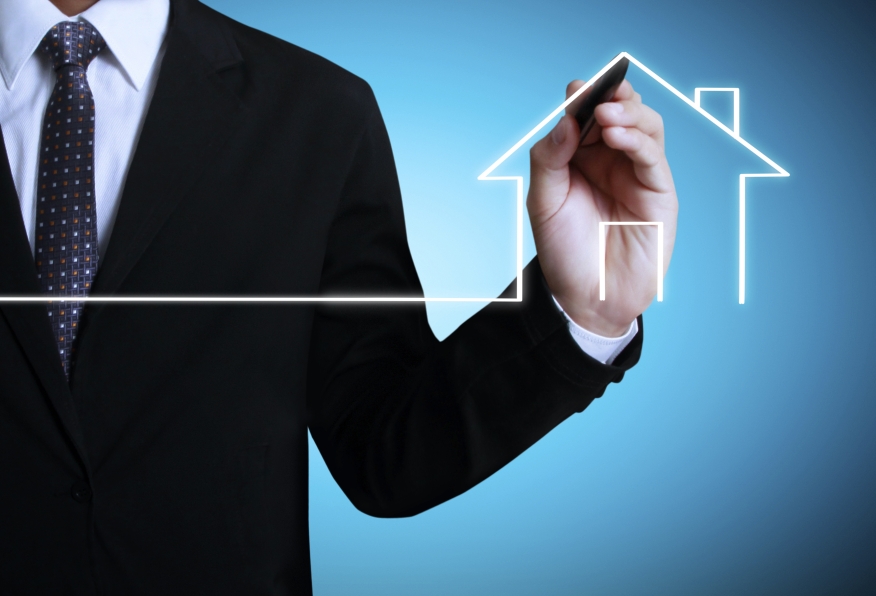 A pair of new data reports issued this morning appears to point to a housing market heading in the direction of greater stability, as the level of mortgage credit availability expands while the depth of foreclosure activity abates.
The latest Mortgage Credit Availability Index (MCAI) report from the Mortgage Bankers Association (MBA) found the index increasing 0.5 percent to 122.0 in April. Three of the four component indices increased–the Government MCAI (up 1.1 percent over the month), the Jumbo MCAI (up 0.8 percent) and the Conforming MCAI (up 0.2 percent)–while the Conventional MCAI dipped slightly over the month with a 0.6 percent slide. The MBA achieves its MCAI results via data from Ellie Mae's AllRegs Market Clarity business information tool.
"Mortgage credit availability increased on net in April," said Mike Fratantoni, MBA's chief economist. "The increase was driven by new offerings of FHA's 203K home improvement program, new VA offerings, and new jumbo products.  The increase was partially offset by some investors tightening underwriting criteria on conventional cash out offerings."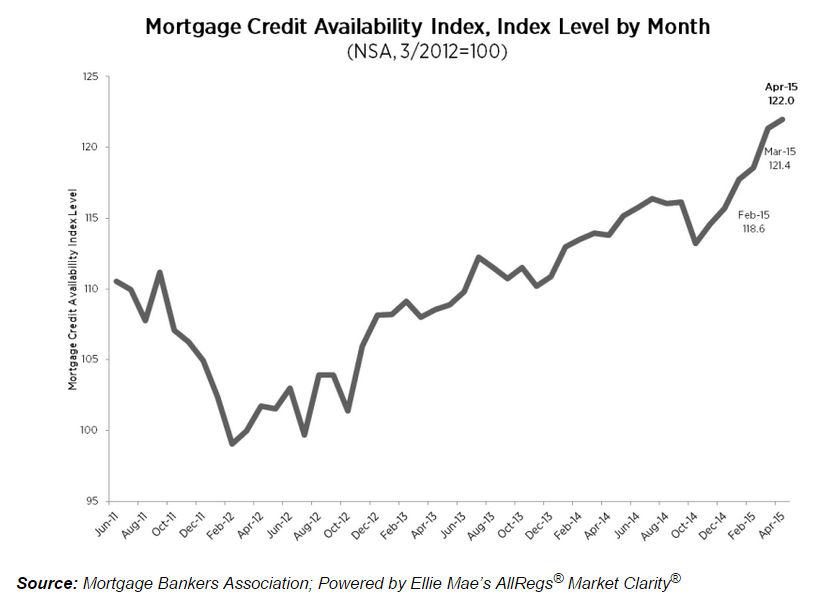 While more borrowers were taking advantage of the increased availability of mortgage credit, fewer homeowners were finding themselves on a one-way road to foreclosure. According to CoreLogic's latest National Foreclosure Report, the foreclosure inventory declined by 25.7 percent in March, while completed foreclosures declined by 15.5 percent from March 2014. There were 41,000 completed foreclosures nationwide in March, a year-over-year drop of 48,000 and a 65.2 percent decline from the peak of completed foreclosures in September 2010.
CoreLogic stated the national foreclosure inventory included approximately 542,000 homes, or 1.4 percent, of all homes with a mortgage in March, down from 729,000 homes, or 1.9 percent, in March 2014, a year-over-year decline of 25.7 percent. On a month-over-month basis, the number of seriously delinquent mortgages declined by 1.9 percent.
"We are seeing additional improvement in housing market conditions due to a decline in the serious delinquency rate to 3.9 percent, far below the peak of 8.6 percent in early 2010," said Frank Nothaft, chief economist for CoreLogic, who added that the foreclosure issue was still serious enough to raise concerns. "Despite the decline in the number of loans that are 90 days or more delinquent or in foreclosure, the percent of homeowners struggling to keep up is still well above the pre-recession average of 1.5 percent."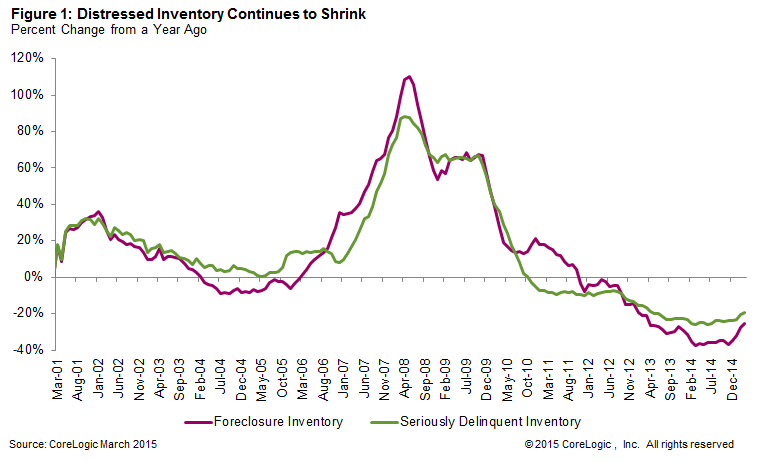 Indeed, on a month-over-month basis, completed foreclosures increased by seven percent from the 38,000 reported in February. However the national picture was not as severe, with five states representing nearly half of all completed foreclosures for the 12-month period ending in March: Florida (110,000), Michigan (50,000), Texas (34,000), Georgia (28,000) and Ohio (28,000). In comparison, South Dakota had a mere 16 completed foreclosures in the same period.