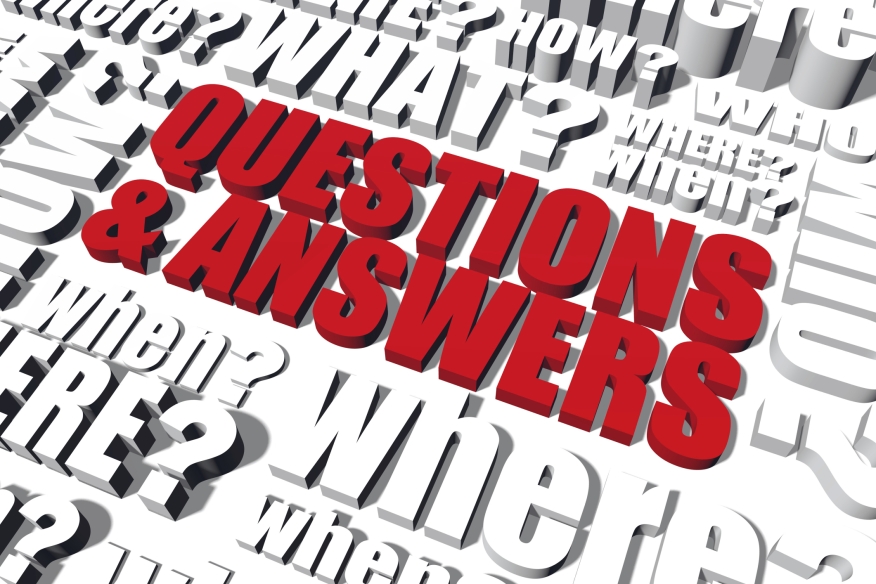 Knowledge is power. Power translates to success, whether it is dollars in your pocket, stronger leadership, increased bottom lines or peace of mind, we are here for you.
This month, we are introducing a new column for questions relating to starting a business, managing a business, training, networking, tax-related issues, corporate security policy, fraud alerts and compliance. All answers are for informational purpose only, and are not intended to practice law, or are meant to provide tax advice or tax opinions. After reviewing our information, we both recommend seeking legal counsel or the advice of a tax professional. Please e-mail us at [email protected] to voice any questions or problems. We are here for you!
Sokhea in Virginia asks …
My new borrower contacted me yesterday and said he submitted an application with two other lenders, but they haven't responded to him  as of yet. I'm thinking, "I don't want to play this game, but I did send him his pre-approval (ran DU) letter this morning, so I'm hoping my quick responses and personable friendly service will win him over." Any suggestions?
Eric's reply to Sokhea …
As a broker and the owner of a company, you have a HUGE advantage. You can price it using "borrower-paid" and make only one percent. Most lenders and banks price their loans at two percent to 2.5 percent in the deal. Since you are an owner, you can price it any way you want.
People don't care about service, how friendly you are or what you are wearing. They want to save money and will sell their grandmother for 1/8 percent on the rate.
Price it real low, you will win the competition and get all of their referral business. No one will be willing to match your price. Tell them you searched everywhere and were able to find a deal that is unbelievable for them. They will take it. Greed is good in this case. Their greed is good for YOU.
Laura's reply to Sokhea …
I'm at a loss here because apparently Eric has inside information relating to you being the owner of the company. I am going to respond as if you weren't an owner of the company and was the party originating the loan, but as a loan officer.
I personally get frustrated if and when someone tells me the same scenario. I ask them flat out, "How far have you gotten in the process? Why did you choose the company and why are you still shopping?"
I have won some because of price, and have lost some due to price, relationship; someone knew someone else, the location of my office, and I am sure a few other reasons as well.
In this case try to respond with thought and courtesy when you are told why they are shopping, and display your expertise, rational objectiveness, and go for it  There are no guarantees in life or in business, so may the best LO win!
---
Paul in Maryland asks …
I own a small mortgage brokerage shop in Maryland. I have about 10 loan officers and have been in business nearly 20 years. I am getting older and was wondering, "How do I figure out what my company is worth?" I might be interested in selling at some point and retiring.
Eric's reply to Paul …
I am sorry to be the one to tell you this, but in my opinion, your company is probably worthless. That is NOT to say it has no value, I am sure it is valuable to you. But in my view of the world, something is only worth what someone else is willing to pay for it, and most realistically, no one wants to buy your company.
If you are like most small mortgage brokers, 80 percent of your volume comes from 20 percent of your work force. I will bet dollars to donuts, you are the largest producer. If you sold out and left, the net income of your company would probably be minimal or not enough to cover the overhead.
A new investor coming in would most likely value your company on net income without your production using a certain capitalization (cap) rate to convert cash flow to value. I can tell you when I owned my company back in 2003, I was offered a value of based on a cap rate of 50 percent (basically two years of earnings). That was the year we were the largest in the country.
Another factor is "The Key Man." Many times, as The Key Man, the company is worthless without you running it. Maybe the employees are staying just because of your force of personality or they trust you. How many, realistically, would stay if you got hit by a bus tomorrow? Do you have a set line of succession? Basically, could the company run for a year without you? Not knowing anything about you or your company, I would say "No." That is just my take on the subject. Just enjoy it while you can. Realistically, you cannot take it with you to retirement.
Laura's reply to Paul …
There are many factors to consider when selling and/or buying a business. The seller must be aware of all tax implications, in addition to determining the percentage of business to be sold: 100 percent, 80 percent or 50 percent. As the previous owner; the new owner may be looking to cut a deal where you sell only 80 percent and retain 20 percent while you stay on as a consultant for an agreed upon term.
For the buyer, many variables and factors come into play, such as age, length of time in the area, current assets, future growth potential, current cash flow, future cash stream, current and future debt leverage, existing clientele (will they remain, how to guaranty clientele stay?) and existing employees.
Retaining employees reduces the training time to hire new, unexperienced employees. Current assets, both physical and monetary, are key factors. For example, if I was to start my own business verses buying your business, I would need furniture, computers, fixtures, etc.
An old rule of thumb, what I would call the "quick and dirty answer" is a mathematical formula: Divide the current annual earnings by the long-term Treasury Bill rate. For example: $250,000 in annual earnings, Long term T-Bill 2.38 250,000/0.0238=$10,504,201.
The theory is if you were to invest in T-Bills, you would obtain the same or similar profit, providing annual earnings will continue to be the same or better. The downside is investing is a lot less work, than purchasing a business.
---
Doug from Illinois asks …
I am thinking about changing companies and working with a lender that allows me to work from my home office. The company office that I would be connected to is a substantial distance from my home. How, if at all, will this play into today's marketplace?
Eric's reply to Doug …
I used to run a mortgage company where the majority of people worked from home. The main thing I would tell you is that your success will depend on your own particular personality.
Working from home for some people can be extremely lonely. Then, there are those who need constant supervision. If you are that type, you could end up watching TV, doing the laundry and a million other tasks because you are more comfortable doing that than the hard work of meeting people. It is not so easy to self-motivate and work when no one is yelling at you to "Go out and meet some real estate agents."
I have seen some top producers go from tremendous volume to practically nothing in a just a few months. Some people just need the camaraderie and competition of an office setting.
Conversely, I love working from home. I do not miss the distraction of office birthday parties, old women gossiping and the dry cleaner bill. I save money on gas and have a very happy lifestyle.
Working from home is the closest you will come to owning your own business. Try it and you might find that you prefer it.
Laura's reply to Doug …
I have worked out of my home for many lenders, and I have found that having an office within reason to use makes a big difference. Working from home, preparing documents, making phone calls, all the day to day stuff is fine, but when it comes to actually meeting clients, having the office is a plus.
I know you can use real estate agent's offices, law firm offices, and such but here is an example I encountered. No close office, working from my home, I was referred to an older gentleman. He came out to my home to meet with me, insisted his daughter come to so she could meet me. I have a very nice, large home, but still not the office setting an old-schooled gentleman was looking for. 
He chose the other loan officer for two reasons, his daughter was friends with him, and he had a physical office, with a secretary and office personnel.
Will everyone be of the same mindset, no they are not? Many will do it all online, which makes it great, and easy for you, allowing you to working from home in whatever attire you desire, but I just wanted to shed a little light on the whole picture.
I also agree with Eric that some can work very effectively from home, while others simply cannot function. They need the structure and the drive into the office, away from their home setting.
I can do either, I am a multi-tasking person, and can easily throw a load of laundry in, feed the dog, write out a bill, make the bed, read the paper, write an article, and oh, yeah, keep working from home!
---
---
Eric & Laura welcome your questions, please send your inquiries to [email protected].
---
---
Disclaimer: All answers are for informational purpose only, and are not intended to practice law, or provide tax advice or tax opinions. After reviewing our information we recommend seeking legal counsel or the advice of a tax professional.
---
---
Eric Weinstein worked in banking, on the commercial real estate side until 1991, when he fell in love with residential lending. In 1995, he started a small mortgage company in his basement called Carteret Mortgage Corporation, which in 2003, grew to one of the largest mortgage broker companies in the United States. He may be reached by phone at (703) 505-8692 or e-mail [email protected]. Laura Burke is an author and trainer with 20-plus years of experience in the mortgage arena. She may be reached by e-mail at [email protected].
---
---
This article originally appeared in the April 2015 print edition of National Mortgage Professional Magazine.