CoreLogic: Strong Dollar Dilutes Appeal to Foreign Buyers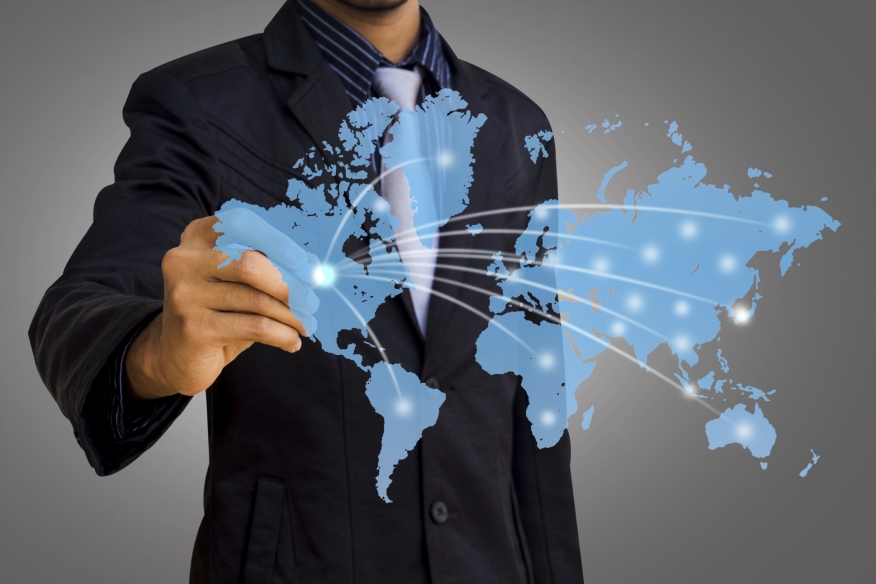 A strong dollar is not the best thing for the U.S. real estate market's efforts to attract foreign buyers, according to a new analysis published by Frank Nothaft, chief economist and senior vice president at CoreLogic.
"A stronger U.S. dollar makes property more expensive for foreign buyers whose currencies have weakened," wrote Nothaft in his CoreLogic blog. "Consequently, purchases by foreign buyers have dropped, especially for those whose currency was most affected by the foreign exchange swing. Between the first four months of 2014 and the same four months of 2015, the number of homes sold to foreign buyers drastically declined … Foreign purchases were down between one-quarter to one-third during this period for buyers whose currencies depreciated significantly relative to the U.S. dollar, even though domestic purchases rose."
Nothaft, who was previously vice president and chief economist at Freddie Mac and an economist with the Board of Governors of the Federal Reserve System, noted that U.S. buyers are enjoying, not experiencing, a similar problem.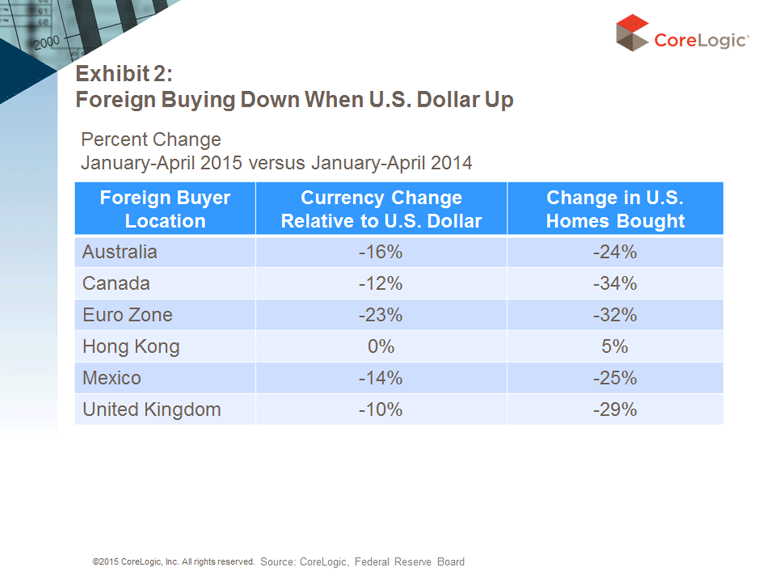 "Home sales in the U.S. during the first four months of 2015 have been the best in eight years," Nothaft observed. "Relative to the same period one year ago, sales jumped 9 percent, helped by a drop in fixed mortgage rates of almost one-half a percentage point."
Yet Nothaft added that National Association of Realtors (NAR) data shows that only two percent of homebuyers during this period were identified as foreign, down from 2.5 percent a year earlier, while roughly three-fourths of real estate agents that represented international clients stated changes in foreign exchange rates have "a moderate to very significant effect on foreign buying."
Complicating matters, Nothaft continued, was the rise in home prices in many markets.
"In addition to the sticker shock caused by the stronger U.S. dollar, the markets where foreigners tend to buy have had strong home price appreciation in the last few years," he stated. "For example, many Canadians, Europeans and South Americans prefer to buy along the Southeast coast of the U.S. for the beaches, cultural amenities, warm winter temperatures and accessibility. Canadians made roughly two-thirds of their U.S. home purchases during the first four months of both 2014 and 2015 in Florida. Of these purchases in 2015, nearly one-half were located in the Miami-Fort Lauderdale-Palm Beach area where home prices rose about seven to eight percent from April 2014 to April 2015. Couple that with the effect of a stronger U.S. currency, and the average Canadian considering a home purchase in south Florida saw a jump in purchase cost of 20 to 25 percent in the past year."
Nothaft forecast a possible continued decline in foreign purchases of U.S. real estate in 2016, although he acknowledged that ongoing problems relating to the Eurozone in relation to the Greek economic crisis "has made it more difficult to project foreign currency movements."