Secure Settlements Changes Brand Name to "Secure Insight"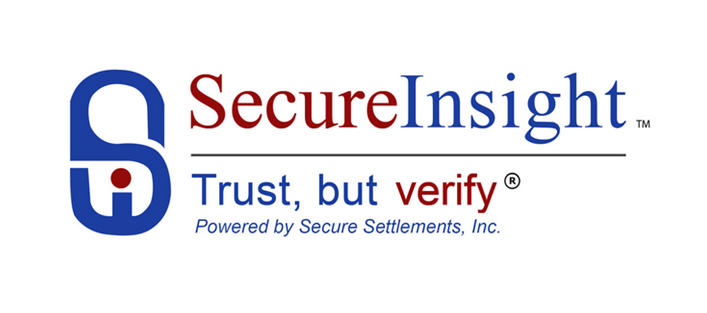 Secure Settlements Inc. (SSI), a data intelligence analysis and reporting firm focused on managing closing table risk, has announced that the company will change its brand name to "Secure Insight" effective immediately. The change has been in development for the past year and reflects the company's expanding product and services lines. The corporate name will remain and continue to be used for legal and certain business purposes.
"We are proud to announce that, effective immediately, Secure Settlements will be known as 'Secure Insight,'" said SSI President Andrew Liput. "Our new logo, which maintains our well-known lock symbol, has been redesigned to reflect our expanded role in the compliance and risk management vendor space. This brand name change has been over a year in planning and reflects our company's growth beyond its original mission to evaluate, monitor and report on settlement agent risk. Today, several years after our launch, we offer a suite of tools to assist lenders with the management of third-party service provider risk and employee screening. VendorCheck offers our clients a total third-party vetting tool, while Safe-ChekUSA offers employee screening to meet federal and state data privacy and consumer protection expectations. Of course our signature products ClosingGuard and QuickCheck remain the industry's best and most reliable settlement agent vendor management and monitoring compliance tools. With our new brand name, 'Secure Insight,' we are much more than just settlement agent vetting!"
SSI monitors thousands of title companies, settlement agents, real estate law firms and other professionals through its proprietary technology and the mortgage industry's only shared nationwide database. The database is accessed daily as a fraud prevention tool by state and federal banks, mortgage lenders and credit unions throughout the United States.