Dimon and ICBA Chief in Public Feud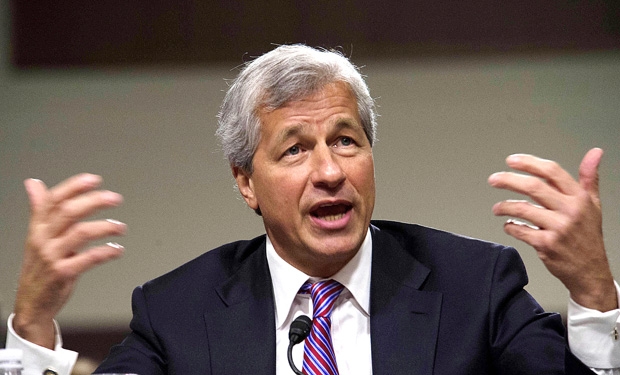 Sarcasm and name-calling permeated the banking industry in a visceral spat between one of Wall Street's most important executives and the head of the trade group representing independent banks.
The problem began with an April 6 op-ed column in The Wall Street Journal by Jamie Dimon, chairman and CEO of JPMorgan Chase. The column, titled "Large Banks and Small Banks Are Allies, Not Enemies," seemed to offer a sense of camaraderie between mega-companies like JPMorgan Chase and the much smaller community-based financial institutions.
"The crisis of the past decade has taught us that mistakes by the largest banks can affect the broader financial system," Dimon wrote. "But some regulations can affect the ability of smaller and regional banks to serve their customers and communities. I believe I can say, on behalf of most of the nation's largest banks, including the one that I lead, that we are very supportive of the efforts by small and regional banks to work responsibly with their regulators and, if necessary, the Congress to address new rules and requirements."
But Dimon's sentiments were poorly received by Camden Fine, president and CEO of the Independent Community Bankers of America (ICBA), who used sassy language to criticize the op-ed piece.
"Just because Jamie Dimon says 'Let's sing Kumbaya' doesn't mean community banks are going to just line-up like a Greek chorus," Fine said in an April 8 interview with Bloomberg.
This morning, Dimon was asked about Fine's comments during an interview on CNBC. Dimon responded, "I think the guy who wrote that is a jerk." Fine was then asked for a comment by CNNMoney, and he stated, "What is this, junior high school? To be called a jerk by Jamie Dimon—I take as a badge of honor. It means he has no good argument to our response. So he resorts to name calling, and in my view that is the last refuge of small minds."
The ICBA issued a separate statement attributed to Fine that put a greater emphasis on JPMorgan Chase rather than on Dimon.
"Jamie Dimon's remarks reflect Wall Street's inability to take responsibility for the economic crisis it caused and the taxpayer-funded guarantee against failure it continues to enjoy," the statement said. "While the American economy is indeed based on interdependence, concentrating most of the banking industry's assets in a handful of megabanks distorts the financial system, perpetuates systemic risks, and threatens institutions not deemed too big to fail. The nation's financial and economic stability should not be at the mercy of a few large financial institutions, regardless of whether they process checks for other banks. While JPMorgan Chase might be proud to offer services to smaller banks, it operates in a completely different banking system—one in which market forces are suspended and failure is held in check by emergency infusions of taxpayer funding."