Veteran LO Paul Carson Joins Mortgage Network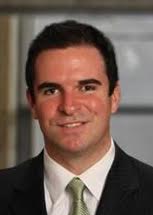 Paul Carson, CMPS has joined Mortgage Network Inc. as a loan officer in the company's Conshohocken, Penn. branch office where he will be responsible for helping borrowers and homeowners throughout the Philadelphia metro area with their mortgage financing needs.
A Certified Mortgage Planning Specialist (CMPS), Carson brings to Mortgage Network more than eight years of mortgage banking experience in the Philadelphia area. Carson was recently named the Most Influential Mortgage Expert in Pennsylvania by MoneyTips.com and has also been named a 2016 Five Star Mortgage Professional by Philadelphia Magazine. A native of nearby Paoli, Penn., Carson graduated from Conestoga High School in Berwyn before earning a degree in finance and marketing from the University of Pittsburgh. Prior to joining Mortgage Network, he served as loan originator for PrimeLending.
"Few loan officers in our profession can match Paul's level mortgage knowledge and expertise, so we're delighted to welcome to our team," said Mortgage Network Regional Manager Ted Lawler. "Considering his achievements and dedication to borrowers and homeowners in the Philadelphia area, Paul will be an enormous asset to our Conshohocken office."
"I'm delighted to join Mortgage Network, which has an outstanding reputation in our market," Carson said. "I look forward to continuing to serve my neighbors with all of their purchase mortgage and refinancing needs. Buyers are frequently involved in multiple offer situations on properties, especially those that are well maintained and priced to sell. Before they submit an offer, it's important for borrowers to link up with a trusted, local mortgage professional who can help them prepare the strongest possible offer—one that stands out over the competition. Through our VIP program, we can approve a borrower's financing before they find a house, giving them a huge advantage over other buyers."