Negative Equity Remains High in Rust Belt States
Housing markets with a higher than normal level of negative equity appear to be heavily concentrated in the Rust Belt states, according to the latest Zillow Negative Equity Report.
Zillow has determined that 12.7 percent of all U.S. homeowners with a mortgage were in negative equity during the first quarter. But on a geographical basis, Rust Belt region states including Wisconsin, Illinois, Indiana, Michigan and Ohio had a disproportionately high number of underwater homeowners – and Chicago carried the highest level for a major metro area, with a 41.1 percent rate of negative equity. In contrast, the hot West Coast housing markets in the Bay Area, Portland and Seattle only recorded 10.2 percent of homeowners with negative equity.
"When the housing bubble burst, the West Coast had more than its fair share of underwater homeowners," said Zillow Chief Economist Svenja Gudell. "But the strong local economy and job markets have significantly helped these housing markets recover, and several are now more expensive than they were during the housing bubble. Other parts of the country didn't get those same benefits, and until market fundamentals improve, homeowners and buyers in these areas will be facing disproportionately higher levels of negative equity as they navigate the housing market."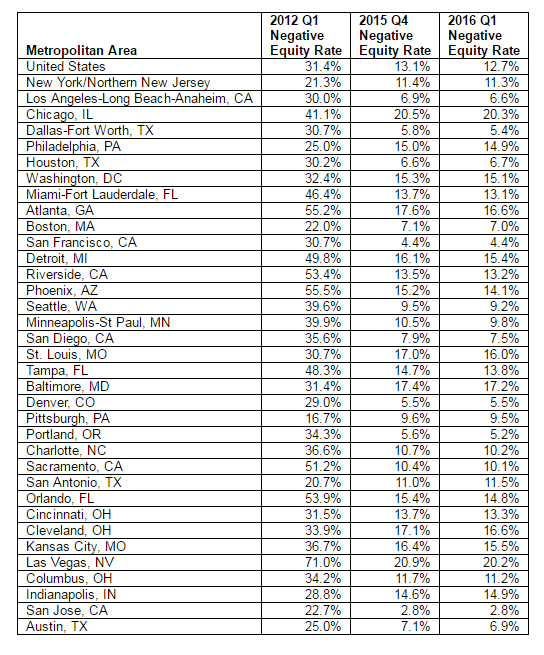 Subscribe to the nmp Daily