Mortgage Rates Drop While Credit Availability Rises
For the first time since Election Day, fixed mortgage rates took a tumble. According to Freddie Mac's Primary Mortgage Market Survey (PMMS), the 30-year fixed-rate mortgage (FRM) averaged 4.20 percent for the week ending Jan. 5, down from last week when it averaged 4.32 percent. The 15-year FRM this week averaged 3.44 percent, down from last week when it averaged 3.55 percent. However, the 5-year Treasury-indexed hybrid adjustable-rate mortgage (ARM) averaged 3.33 percent this week, up from last week when it averaged 3.30 percent.
"This marks the first time since 2014 that mortgage rates opened the year above four percent," said Sean Becketti, chief economist at Freddie Mac. "Despite this week's breather, the 66-basis point increase in the mortgage rate since Nov. 3 is taking its toll—the MBA's refinance index plunged 22 percent this week."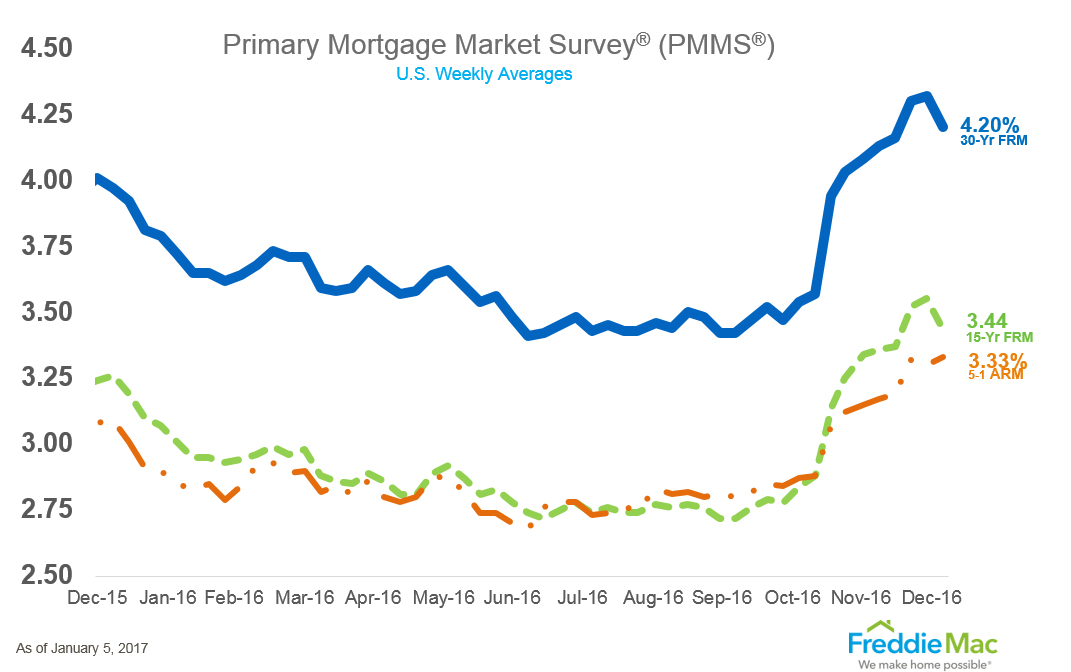 And speaking of the Mortgage Bankers Association, the trade group's Mortgage Credit Availability Index (MCAI) saw a 0.6 percent uptick to 175.2 in December, with all four component indices on the rise: Jumbo MCAI (up 1.3 percent), Conventional MCAI (up 0.7 percent), Government MCAI (up 0.6 percent) and Conforming MCAI (up 0.04 percent).
"Credit availability was up for the fourth consecutive month in December driven by jumbo loan programs as well as loan programs for borrowers with lower credit scores and low down payments," said Lynn Fisher, MBA's vice president of research and economics.