Analysis: Bloomberg Claims That Trump's Immigration Policy Will Sink Housing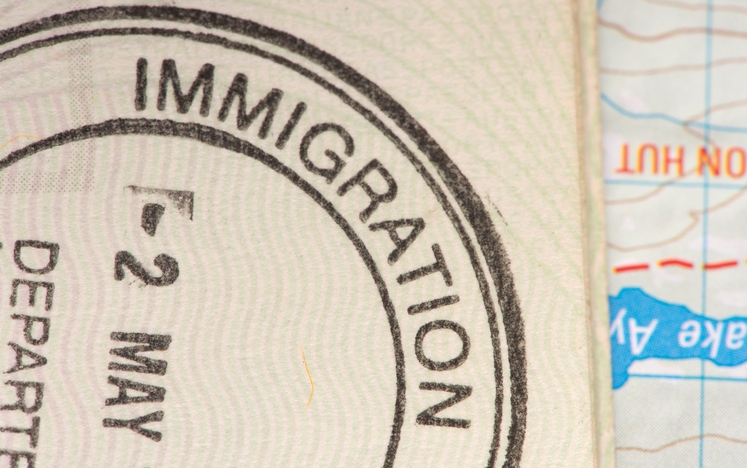 Donald Trump was elected president on a get-tough platform related to the enforcement of existing immigration laws. The administration's newly released policy to crackdown on illegal immigrants and speed the deportation process has, not surprisingly, intensified divisions in a politically split environment.
However, Bloomberg News has come out today with an article that argues that the Trump Administration's enforcement of laws related to illegal immigration will damage the housing market. The article "
Why Trump's Immigration Crackdown Could Sink U.S. Home Prices
" offers a portrait of both legal and illegal immigrants reportedly quaking in fear of being arrested and kicked out of the United States. But a careful analysis of the article reveals a partisan agenda that has little, if anything, to do with housing.
For starters, the article intentionally blurs legal and illegal immigrants into a single community, which is deceptive. While the recent attempt (now blocked by a court order) to impose a ban on overseas arrivals from seven countries was too broad and clumsy in its direction, there has been no policy directive from the White House to detain and imprison people who are in the U.S. legally. Nor does the president have constitutional authority to unilaterally revoke the residency rights of legal immigrants.
Yet the Bloomberg articles quotes business professionals from India and Brazil—all legal immigrants—claiming they are afraid to buy a house because of Trump, which obviously makes no sense. Even worse, Bloomberg pulls an old Journalism 101 trick of quoting two people and then extrapolating their comments to reflect the mood of an entire demographic.
 
The article also quotes a 24-year-old named Juan Rodriguez, who received approval for a mortgage and is working towards a college degree. Rodriguez came to the country from Mexico when he was seven—his parents entered the U.S. through unauthorized channels—and the article never gives the impression that made any attempt to legalize his status.
"I feel like with one stroke of Trump's signature everything can be taken away, even all my hard work," said Rodriguez.
Yet the Bloomberg article intentionally downplays that Rodriguez is in no peril of deportation—he is covered under the Deferred Action for Childhood Arrivals (DACA), which President Barack Obama created with an executive order in 2012 and which President Trump repeatedly stated was not being revoked. In fact, the president called on Congress to offer a solid legislative alternative to DACA, which was enacted without congressional input.
Indeed, Bloomberg seems to be creating panic where there is no cause for alarm. "Even workers with green cards and work visas under the H1-B program for skilled foreign workers are worried about possible restrictions under Trump," the article said. "The housing markets most at risk include Miami, Silicon Valley, Los Angeles, San Francisco and New York, which have the biggest concentrations of foreign-born buyers."
But what Bloomberg conveniently failed to address was that those cities are among the most expensive in the nation, and the "foreign-born buyers" purchasing properties are either international investors or are high-paid executives whose legal status in the U.S. is not in question. There is no reason to believe any of those housing markets will suffer due to the Trump immigration policies.
The article also quotes an analysis by the Migration Policy Institute, a think tank opposed to Trump policies, that one-third of the 11 million unauthorized immigrants in the U.S. live in a home that they or a family member or friend own. But there is another problem with the article's research: nobody knows how many illegal immigrants are in the U.S. After all, it is not like the illegals self-identify their status on Census Bureau forms. And it is possible that the 11 million figure—which often gets quoted in the media—might be lower than the actual number of undocumented individuals in the country at this time.
The article also cites University of Washington economist Jacob Vigdor's claim that "the country's 40 million immigrants add $3.7 trillion to total housing wealth." There is also a forecast from Pew Research that "future immigrants and their descendants will account for 88 percent of percent of the U.S. population increase, or 103 million people." Once again, legal and illegal immigrants are being blurred together, which makes these forecasts worthless.
And Bloomberg's political agenda was clearly on tap with this sentence: "Trump's friendly stance toward Russian President Vladimir Putin is heartening buyers from that country. They had held back after his 2014 Crimean takeover prompted Obama to impose sanctions, according to Edward Mermelstein, a New York-based real estate lawyer who represents wealthy foreigners. His Russian clients negotiating home purchases in New York and Miami more than doubled since Trump took office."
For the record, Russian interest in high-priced U.S. real estate within certain markets was extremely strong prior to 2014. And President Trump has only been in office for a month, which is too short of a period for any serious measurement of his impact on housing. The Putin mention appears to be a gratuitous effort to keep alive conspiracy theories on Russia designed to damage the president's legitimacy.
At no point in this article is there any statement that people who illegally enter and reside in the U.S. are in violation of federal law. And the undocumented individuals quoted in the article fail to show any acknowledgment that their presence in this country runs afoul of the law, nor do they show remorse for their actions. Rather, they seem annoyed that their presence is being questioned.
As for the impact of arresting and deporting illegals on the housing market, there is absolutely nothing in this article to support the dramatic thesis of the Bloomberg piece. And, in any event, President Obama deported approximately two million illegal immigrants during his administration, and there was no effect whatsoever on U.S. housing.
The immigration question is an emotional issue, to be certain. But to argue that enforcing immigration laws will ruin the housing market is, at every level, unsupportable by basic facts.