Home Prices Are Still Going Up
In what has become the most predictable data news in the U.S. economy, home prices continue to climb. The latest data finds home prices in February up by seven percent on a year-over-year basis and were up by one percent from the previous month,
according to new data from CoreLogic
.
Among the states, Washington and Oregon saw the greatest year-over-year home price spikes in February at 11.1 percent and 10 percent, respectively. West Virginia and Connecticut were the only states recording price slumps, with -1.3 percent and -0.1 percent declines, respectively.
CoreLogic is forecasting that home prices will increase by 4.7 percent on a year-over-year basis from February 2017 to February 2018, and on a month-over-month basis home prices are expected to increase by 0.4 percent from February to March.
"Home prices continue to grow at a torrid pace so far in 2017 and these gains are likely to continue well into the future," said Frank Martell, president and CEO of CoreLogic. "Home prices are at peak levels in many major markets and the appreciation is being driven by a number of dynamics—high demand, stronger employment, lean supplies and affordability—that will continue to play out in the coming years."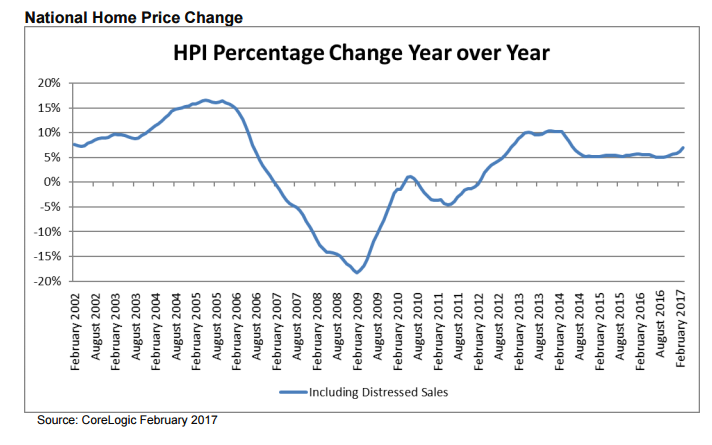 Subscribe to the NMP Daily