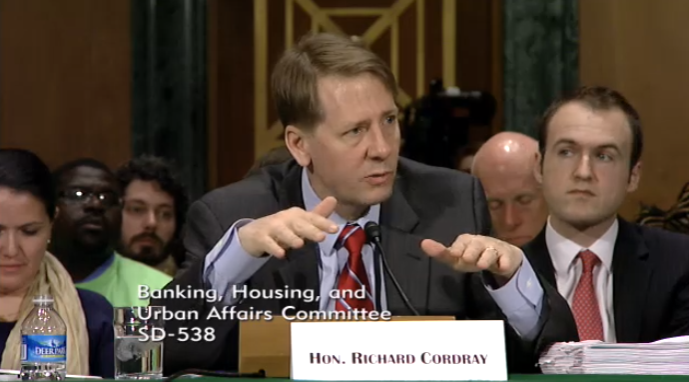 Richard Cordray, Director of the Consumer Financial Protection Bureau (CFPB) and, arguably, the most powerful and polarizing federal regulator in D.C., has announced that he is leaving his job eight months before the end of his term. In an internal memo, Cordray addressed the CFPB staff by announcing: "I wanted to share with each of you directly what I have told the senior leadership in the past few days, which is that I expect to step down from my position here before the end of the month."
Cordray did not give a specific date for his departure from the Bureau, nor did he offer a preview of the next chapter in his career. For the past few months, Cordray has been the center of speculation that he was going to seek the 2018 Democratic nomination for governor of Ohio—he
neither confirmed nor denied the speculation
, even after being directly questioned by members of Congress.
Cordray's memo ran a brief inventory of what he perceived to be his accomplishments, including the introduction of "stronger safeguards against irresponsible mortgage practices that caused the financial crisis and hurt millions of Americans." He also sought to downplay his personal importance, adding that "one thing I have tried to reinforce this year is that the Consumer Bureau is far more than its Director."
Cordray, a former Ohio Attorney General, was nominated as CFPB Director by President Barack Obama on July 17, 2011, four days before the Bureau officially opened. When his nomination stalled in the Senate, President Obama used a controversial recess appointment to place Cordray in the job. On July 16, 2013, the
Senate confirmed Cordray
to a five-year term as Director in a 66-34 vote.
During his years at the helm of the CFPB, Cordray received praise from consumer advocacy groups and progressive politicians for his work in establishing new rules and guidelines relating to the financial services industry. However, the CFPB, under his leadership,
also weathered criticism
related to cost overruns in the construction of its headquarters, charges of discrimination within its employee ranks and accusations of heavy-handed enforcement actions brought against financial services companies. Despite calls from GOP legislators for his ouster, President Trump allowed Cordray to remain in his job—indeed, the President seemed to have ignored Cordray, never targeting him for verbal or Twitter attacks.
John G. Stevens, President of NAMB, said "NAMB has always welcomed working with Director Cordray and the CFPB throughout his tenure. His open-door policy of communicating with the association and allowing us to express our concerns regarding any decisions made that may directly affect the lending community and consumers was appreciated. We look forward to working with President Trump and his team as they move towards the selection of Director Corday's replacement."
"I want to congratulate Director Cordray on a successful tenure at the CFPB," said David H. Stevens, CMB, President and CEO of the
Mortgage Bankers Association
. "He came into the position during a tumultuous time and was successful in solidifying the role the bureau plays in protecting consumers. As we now pivot to the nomination of a new director, it will be imperative that someone is chosen who can provide a balance between the rulemaking process and the need for clarity and consistency in the direction and guidance given to lenders across the country."
Michelle Korsmo, Chief Executive Officer of the
American Land Title Association (ALTA)
, said, "Since being officially nominated more than four years ago as the first director of the Consumer Financial Protection Bureau (CFPB), ALTA has worked closely with Richard Cordray and his staff to help them understand the important role title and settlement agents play in the safe and efficient transfer of real estate. During this leadership transition, ALTA will continue to support CFPB staff to help provide positive and compliant real estate settlement experiences for consumers and lenders, and serve as a resource on important consumer issues such as wire transfer fraud, third-party oversight and mortgage disclosures."
The White House did not issue a statement on Cordray's resignation. Sen. Elizabeth Warren (D-MA), who is credited as being the architect of the CFPB and who was passed over for the Director's position by President Obama, reacted to the news on Twitter by stating, "At the @CFPB, Rich Cordray forced the biggest financial institutions to return $12B directly to the people they cheated. He held big banks accountable. He's a dedicated public servant & a tireless watchdog for US consumers–& he will be missed." She added another tweet warning that the CFPB Director position is no place for a "Trump-appointed industry hack."
But Rep. Jeb Hensarling (R-TX), Chairman of the House Financial Services Committee, offered a different assessment.
"We are long overdue for new leadership at the CFPB, a rogue agency that has done more to hurt consumers than help them," Rep. Hensarling said. "The CFPB tramples on the fundamental economic rights of American citizens, taking away their choices and opportunities … Americans deserve the opportunity to choose the checking account they want, the mortgage they want and the credit card they want. I look forward to working with President Trump's choice for CFPB Director to protect consumers."