New Report Forecasts Property Losses from Climate Change Flooding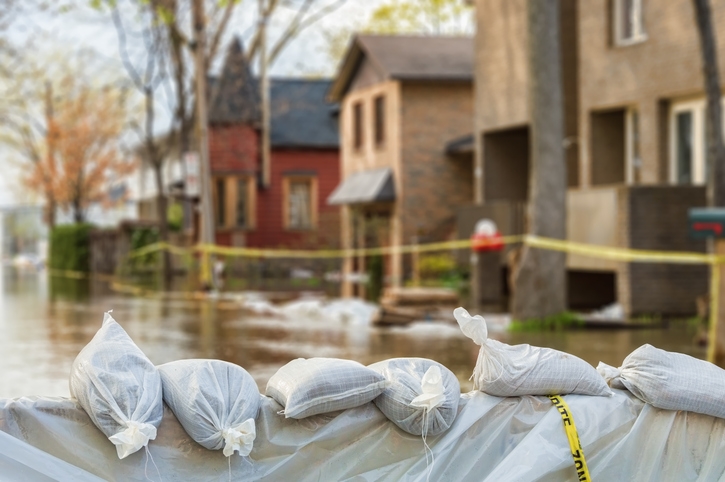 As many as 311,000 coastal homes in the continental United States with a collective market value of approximately $117.5 billion are at risk of climate change-induced chronic flooding within the next 30 years—the lifespan of a typical mortgage—
according to new data released by the Union of Concerned Scientists (UCS)
, which also noted that about 14,000 coastal commercial properties assessed at a value of roughly $18.5 billion also are at risk during that timeframe.
The USC forecast that $1 trillion worth of residential and commercial properties could be at risk of flooding by the century: 2.4 million homes valued at approximately $912 billion and 107,000 commercial properties assessed at $152 billion. Florida, with about 1 million homes or more than 10 percent of the state's current residential properties, has the greatest risk among the states for flood-related destruction, followed by New Jersey with 250,000 homes, and New York with 143,000 homes. States that could lose the most residential property values by 2100 are Florida at $351 billion, New Jersey at $108 billion, and New York at nearly $100 billion.
Furthermore, the research predicts that Florida, New York and New Jersey will see the biggest hits to their annual property tax revenue with municipalities losing about $5 billion, $1.9 billion and $1.7 billion total respectively.
"For some communities, the potential hit to the local tax base could be staggering," said Kristy Dahl, Senior Climate Scientist at UCS and report co-author. "Some smaller, more rural communities may see 30, 50, or even 70 percent of their property tax revenue at risk due to the number of chronically inundated homes. Tax base erosion could create particular challenges for communities already struggling with high poverty rates."
The research also determined that many predominantly African-American and Hispanic communities run the risk of greater losses in the event of flood damage.
"While wealthier homeowners may risk losing more of their net wealth cumulatively, less-wealthy ones are in jeopardy of losing a greater percentage of what they own," said Rachel Cleetus, an Economist and Policy Director for the Climate and Energy Program at UCS and the co-author of the new research. "Homes often represent a larger share of total assets for elderly or low-income residents. Renters too might find themselves in a tight market or having to put up with decaying buildings and increased nuisance flooding. Hits to the property tax base in low-income communities, which already experience significant underinvestment in critical services and infrastructure, could prove especially challenging."