Historic Chicago Hotel Faces Foreclosure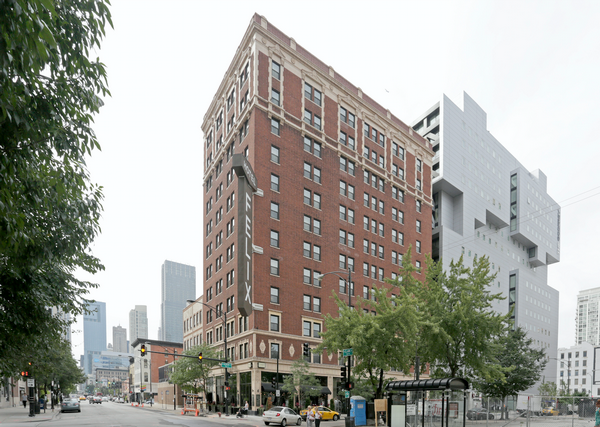 A historic Jazz Age Chicago hotel that reinvented itself as a modern example of green building is facing a foreclosure lawsuit.
According to a
Crain's Chicago Business
report, the joint venture owners of the Hotel Felix—local developers Oxford Capital Group and Gettys Group—have defaulted on a $47 million loan on the 225-room property. A venture of Deutsche Bank that oversees the loan on behalf of investors in commercial mortgage-backed securities complained in the lawsuit that the hotel's owners were dealing with a "critical cash flow crunch" due to falling performance and have not made their scheduled loan payments on the hotel since February. As of last week, the lawsuit charges, the hotel owners owed $51.4 million, including interest and other charges.
Built in 1926 and originally christened the Hotel Wacker, the property fell on tough times and was operating as a single-room occupancy residence before closing in 2007. It reopened in 2009 as the Hotel Felix with a new focus on eco-friendly design and amenities. The new green-hued property became Chicago's first hotel to achieve a Leadership in Energy and Environmental Design Silver rating from the U.S. Green Building Council. In the past few years, the hotel found itself challenged by competition from a spate of new hotels and a massive increase in its property taxes: a $256,000 tax level in 2014 soared to $945,000 in 2016.
Oxford Capital Group President and CEO John Rutledge issued a statement expressing hope that a resolution was forthcoming, adding that the hotel's owners were "in advanced negotiations to finalize a friendly amendment."