Featured Industry Leader: Joshua Wolfe, Executive Director, Maine Association of Mortgage Professionals
Joshua Wolfe is executive director of the Maine Association of Mortgage Professionals (MAMP).
National Mortgage Professional Magazine
recently spoke with Joshua regarding MAMP and the state of the industry in Maine.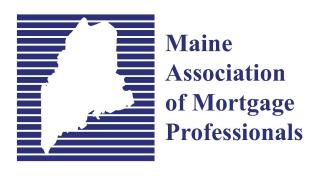 How and why did you get involved with the Maine Association of Mortgage Professionals? Can you share the track that led to the leadership role within MAMP?
I initially became involved with MAMP in November 2015 from an association management perspective, but very quickly fell in love with the real estate finance housing industry and the professionals that work in it. I find that real estate finance professionals are some of the most compassionate and caring individuals that exist and because of this, I have remained in the industry and have continued to engage in leadership opportunities.
Every day is different when you work in the real estate finance industry, and that is why I love it. Whether it's communications between businesses, strategic planning with local communities, or policy advocacy, you can be sure that each day will challenge you and leave you feeling fulfilled. Getting to work in an industry with such a diverse group of individuals who all share the same common goal of making homeownership achievable for Americans, that part is just a bonus.
 
Why do you feel members of the mortgage profession in your state should join MAMP?
MAMP has an incredibly strong educational component. Each year, the association hosts nine breakfast meetings and one full-day expo. We have industry leaders come and speak to offer content-specific training, economic forecasts, insights into federal and state regulatory matters, as well covering other industry-related topics.
The MAMP Board of Directors is mindful to select topics for educational events that will help both front office (loan originators) and back office (underwriters, processors) professionals successfully grow their businesses. MAMP also hosts networking events throughout the year, as well as a wildly successful charity golf tournament that benefits a local charity.
In summary, we try to keep our members engaged by bringing them together on a regular basis and providing them with the tools and knowledge needed to succeed in the industry. With that being said, we also like to make sure our members have fun at our events–it helps to keep them coming back for more.
 
What role does MAMP play in the federal and state legislative and regulatory environments, and are there any items on the current agenda you would like to highlight?
MAMP works hard to stay in tune with what is happening on both the federal and state levels. Since we are continuing to grow as an organization, we are continuing to increase our engagement with the Maine legislature. Both recently and in the past, we have coordinated with other real estate finance industry organizations (nationally and locally) to support or oppose legislation as necessary.
One goal the association hopes to achieve in the very near future is the addition of our very own legislative day. The goal for this event will be to provide members the opportunity to directly engage with the legislative process in the state of Maine, as well as here directly from Maine politicians.
In addition, on March 31, members of MAMP traveled to D.C. to meet with members of Congress to advocate for the interest of both mortgage professionals and consumers in the state of Maine.
To prepare for meetings scheduled with the offices of Rep. Golden, Rep. Pingree, Senator Collins, and Senator King, MAMP members flew to D.C. and first attended two conferences hosted by the MBA. The first conference titled MBA's State and Local, focused on the operations and management of state associations in regards to membership engagement, management software, policy advocacy and much more. The second conference, titled MBA's National Advocacy Conference, helped MAMP members to prepare for scheduled meetings with Maine legislators on Capitol Hill by facilitating sessions that focused on both policy advocacy and the current state of the mortgage industry locally, regionally, and nationally. Topics that MAMP members discussed with Maine legislators were Government-Sponsored Enterprise Reform, Regulatory Clarity, Affordable Housing, Federal Housing Program Support, and VA Home Loan Availability.
 
What do you see as your most significant accomplishments with MAMP?
On the whole, we have continued to grow from year to year, adding new member organizations and increasing our organization's budget so that we can enhance our programming and events. The board of directors has worked hard to really raise the bar the past few years in regards to both event planning and political advocacy which has added additional value for MAMP's membership.
 
What is synergy between your organization and NAMB, and other industry trade groups?
The MAMP Board of Directors works hard to stay engaged with what is happening on both a local and national level and often achieves this by working with other industry trade organizations. We have worked directly with MBA on state advocacy matters in the past and often invite them to engage with the MAMP membership as guest speakers, etc. In addition, many of our members also participate directly in NAMB and MBA.
 
In your opinion, what can be done to bring more young people into mortgage careers?
I don't think that recent graduates have the opportunity to learn about the mortgage industry as a career option. I believe that a key part of increasing the number of young people in the industry is getting out there and demonstrating that this is an area where there continues to be job growth and opportunities, especially for young people. We've worked with the University of Southern Maine to engage their students, as well as to attend their career fairs and events.
Our organization is incredibly diverse, including banks, mortgage companies, appraisers, attorneys, mortgage insurance companies, settlement agencies, and title insurance companies. And because of this, when we've participated in local job fairs, we have worked hard to bring several different industry representatives to talk with students in hopes of demonstrating the many opportunities that exist in the industry.
 
How would you define your state's housing market?
In Maine, real estate is second in state GDP, after healthcare, and we have one of the highest homeownership rates in the nation. The drive for homeownership in Maine is incredibly strong. Maine is an incredibly diverse state as far as the real estate market is concerned. In southern Maine, inventory is lacking, so buying can be a challenge, but prices continue to increase. In northern and eastern parts of Maine, the overall home prices are slower to rise and properties in these areas seem to stay on the market for a longer period of time.
Subscribe to the NMP Daily