Former Fed Chairman Paul Volcker Dies at 92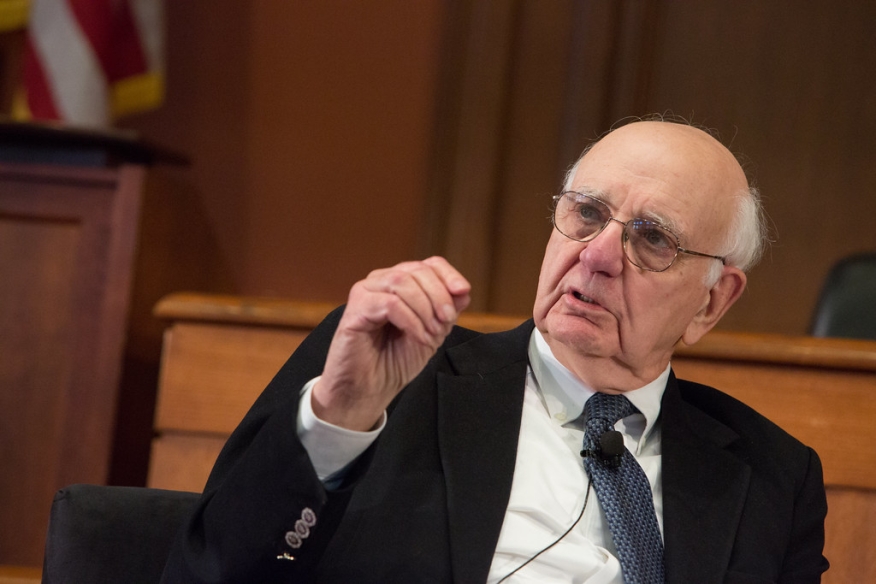 Paul Volcker, who was appointed chairman of the Federal Reserve by President Jimmy Carter and reappointed by President Ronald Reagan, passed away yesterday at the age of 92.
Volcker was born in Cape May, N.J., and received his undergraduate degree from Princeton University and his master's from Harvard University. After attending the London School of Economics from 1951 to 1952, he became an economist at Federal Reserve Bank of New York and worked there until 1957, when he became a financial economist with the Chase Manhattan Bank. After a 1962-1965 stint at the U.S. Treasury Department as director of financial analysis and later deputy undersecretary for monetary affairs, he returned to Chase Manhattan Bank as vice president and director of planning in 1965.
Volcker returned to Washington when President Richard M. Mixon appointed him as Treasury Undersecretary. He played a key role in Nixon's 1971 decision to suspend gold convertibility of the dollar, which he later called "the single most important event of his career." He left the Executive Branch in 1974 to become a senior fellow at Princeton's Woodrow Wilson School and was appointed president of the Federal Reserve Bank of New York by President Gerald Ford in 1975.
President Carter nominated Volcker to become chairman of the central bank in 1979 and President Reagan renominated him for a second term in 1983. He is widely credited for successfully reversing the damaging effects of inflation on the U.S. economy, which peaked at 14.8 percent in March 1980 but crashed below 3 percent three years later. Under Volcker, the federal funds rate soared from an average of 11.2 percent in 1979 to a peak of 20 percent in two years. The increase of the prime rate to 21.5 percent in 1981 was blamed by many as fueling the recession of 1981-82.
Volcker left the Fed and became chairman of the New York investment banking firm Wolfensohn & Co. He would return to the national and international spotlight throughout his later years, including in his 2004-05 role as the United Nations lead investigator into potential the Iraqi Oil for Food program corruption and his leadership of the President's Economic Recovery Advisory Board under President Barack Obama.
Federal Reserve Chairman Jerome Powell issued a statement that read: "I am deeply saddened by the passing of Paul Volcker. He believed there was no higher calling than public service. His life exemplified the highest ideals: integrity, courage, and a commitment to do what was best for all Americans. His contributions to the nation left a lasting legacy. My colleagues and I at the Federal Reserve mourn this loss and send our condolences to his family."