Trump Passes $2 Trillion Coronavirus Aid Package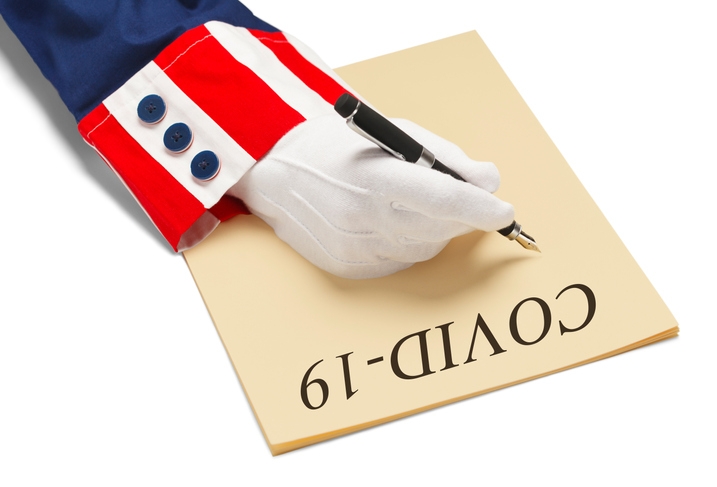 On Friday, the U.S. House of Representatives approved the $2 trillion H.R. 748, The Coronavirus Aid, Relief and Economic Security Act or the "
CARES Act
," and it was quickly signed by President Trump. The bill was introduced as a means of relief for millions of Americans stricken by the effects of the Coronavirus.
"I want to thank Republicans and Democrats for coming together, setting aside their differences, and putting America first,"
said President Trump
. "This legislation provides for direct payments to individuals and unprecedented support to small businesses. We're going to keep our small businesses strong and our big businesses strong. And that's keeping our country strong and our jobs strong."
H.R. 748
grants single Americans checks in the amount of $1,200, or $2,400 for married couples, based on their 2018 and 2019 tax returns. To address those who filed for unemployment insurance, they would get an extra $600 per week for up to four months, on top of state unemployment benefits to make up for 100 percent of lost wages. Single adults who earned more than $99,000 and married couples who jointly earn in excess of $198,000 will not receive checks.
According to Yahoo!
, Treasury Secretary Steven Mnuchin said the White House wants the stimulus checks distributed by April 6.
As a means to prevent a complete housing crisis, H.R. 748 would grant borrowers dealing with a COVID-19-related financial hardship to
request a forbearance
, postponing their mortgage payment for 180 days without being penalized. The bill may also allow the Fed to create a potential liquidity facility for mortgage servicers, but the mechanics of how this access would work must ultimately be decided by the Trump Administration. It is projected that even if 25 percent of all borrowers
request forbearance for six months or longer
, cash demands on mortgage servicers could exceed $75 billion and could climb well above the $100 billion mark.
"With the passage of the CARES Act, we continue to urge the Federal Reserve and U.S. Treasury to create a financing program to help any residential and commercial/multifamily mortgage servicer who will need assistance in order to provide unprecedented levels of mortgage payment forbearance required under the legislation to help families with COVID-19-related hardships," said Mortgage Bankers Association (MBA) President and Chief Executive Officer Bob Broeksmit, CMB. "On behalf of the real estate finance industry, we look forward to continuing to work with the administration, Congress, the Fed, and state and local officials to ensure that borrowers, renters, and small businesses are properly supported and protected during this pandemic."
►Liquidity Facility: $454 billion for the Federal Reserve to provide liquidity to the financial system.
►Consumer Right to Request Forbearance: Applies to federally backed mortgage loans (Fannie/Freddie/FHA/VA/USDA) and broadly mimics the programs Fannie Mae and Freddie Mac have already announced.
►Multifamily Mortgage Forbearance: Up to 90 days of forbearance on federally insured, guaranteed, supplemented, or assisted mortgages, including mortgages purchased or securitized by the GSEs.
►Moratorium on Evictions: 120 days, for single-family and multifamily properties that participate in federal housing, homelessness, rural programs, or properties financed by federally insured, guaranteed, supplemented, or assisted mortgages, including mortgages purchased or securitized by the GSEs.
►Small-Business Assistance: $349 billion for SBA loans to help small businesses.
►HUD Rental Assistance: More than $11 billion over a handful of HUD programs.
"In support of President Trump's whole-of-government approach to combating this virus, the Commerce Department has immediately begun to implement the CARES Act," said U.S. 
Secretary of Commerce Wilbur Ross. "From technical assistance and development grants to export support and supply chain analysis, our Department will be at the forefront of providing American businesses and workers with the resources they need during this time."