Life Pumps Back Into The Non-QM Market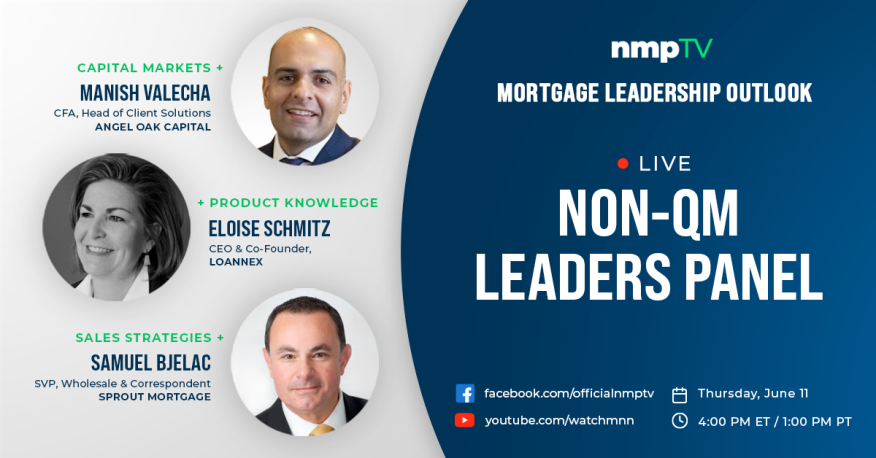 Thursday's edition of the
Mortgage Leadership Outlook series
found series host Andrew Berman, head of engagement and outreach for
National Mortgage Professional
magazine, moderating a panel discussion featuring three of the non-QM segment's top minds. Joining Berman were Eloise Schmitz, CEO and co-founder of
LoanNEX
; Manish Valecha, CFA, head of client solutions for
Angel Oak Capital
; and Samuel Bjelac, senior vice president, wholesale and correspondent for
Sprout Mortgage
for a discussion on the state of the non-QM market in the midst of the COVID-19 pandemic.
As the coronavirus spread and the nation began to pause, the target market for the once burgeoning non-QM market was hit the hardest. A product geared toward those who experienced credit issues in the past such as foreclosures, bankruptcy, late payments or other isolated credit issues, the non-QM market mirrored the nation and eventually came to a halt as one-fifth of the nation joined the ranks of the unemployed.
Many wondered if the non-QM market would rebound after being dealt such a blow, but as Schmitz, who brings 23 years of experience in finance and strategy as co-founder of LoanNex, described, "We are starting to see some light, and it's coming along."
Valecha, who leads Angel Oak's efforts in the institutional investor marketplace, described, "We spent a lot of time educating folks in 2017, 2018 and 2019 on non-QM and there was never really a test for this product, a downturn like we have gone through. So, in some ways, having gone through this and having come out on the other side with some data and some information, it's going to help the sector in the longer term. These next few months are going to be very helpful to give people that stress test of the collateral on the capital markets side."
And now that non-QM seems to have made it and survived the pandemic, new life has been breathed into a product that many thought would never return from the brink.
"We came into 2020 … if you look at Q1, we were a few ticks under $3 billion in volume, and fast-forward 90 days and we were are all looking for toilet paper," said Bjelac, who focuses on the aggregation of non-QM/non-agency residential mortgages and business purpose investment property loans at Sprout Mortgage. "Now, here we are, we have life, we have a spark, and we have people re-engaging. We paused it for a few months and the loan products we brought back in have less leverage and a little higher interest rates, but people are getting re-engaged again."
Highlights From The Interview
►Schmitz says it will take liquidity to return the non-QM market to normalcy: "Liquidity, in general, is going to impact both the correspondent market, as well as the investors that are coming back. If they have liquidity in the market, then the investor can come back. It's a lot of shifting around."
►Valecha on changes in non-QM investors: "Angel Oak did its 2020-01 securitization pre-COVID, and that was an outstanding securitization. We have not seen a change in that buyer base. In fact, the buyer base has grown significantly. Last year, we did six securitizations … maybe $25 billion. At that point, you had a lot of folks buying the bonds, and once they understood what non-QM was, it was a big positive."
►Bjelac on some of the non-QM offerings he is seeing pick up in the market: "The old school jumbo product. [Sprout Mortgage] brought that back about three weeks ago. Then you have the core four of non-QM: The one-year full doc; the 12/24 month bank statement program; asset depletion offering; and debt service coverage."
Check out the full interview with Schmitz, Valecha and Bjelac below.