AFR's Brandao Discusses Thriving In The Era Of COVID-19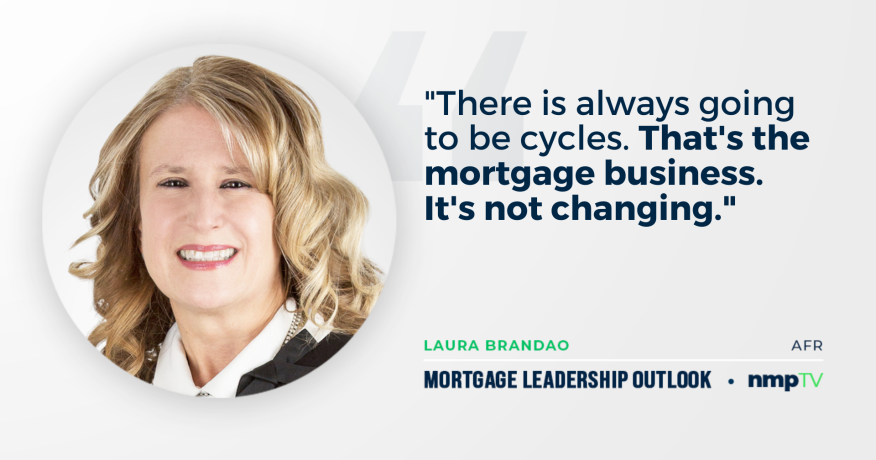 Wednesday's episode of the Mortgage Leadership Outlook series featured
Laura Brandao, president of American Financial Resources Wholesale
. She discussed the company's increase in productivity, remote working conditions, how it handled the surge in volume and more. The discussion was led by series host Andrew Berman, head of engagement and outreach for 
National Mortgage Professional
magazine.
As the president of AFR, Brandao is responsible for the sales, strategy, culture and day-to-day operations of the Wholesale and Correspondent Divisions. She joined the company in 2007 as director of operations with the opportunity to start up the Wholesale Division, building what has now become a nationally recognized specialty wholesale lender.
When COVID-19 first began to appear, Brandao and her team were already thinking about preparing to send folks home. She gained a bit of inside information from her sister who works as a chief nursing officer in New Jersey. She was told how much worse the pandemic was actually becoming and that folks would definitely need to work remotely.
AFR immediately started preparations for a remote workforce in the second week of March. She received a call from her CEO who wanted to stop lending in states with stay-at-home orders. Her reaction was, "We can't do this to the brokers."
AFR would continue to lend with limits but ran into some issues on the construction side of loans because of the warehouse lines. They were unable to receive building permits; towns were shutting down and builders were unable to continue working. They funded as many construction loans as they could before putting the pause on them.
Brandao said that when the company began working remotely it saw an increase in productivity. They also increased volume 50% without adding any staff. With the advancements in technology, Brandao says the industry was better equipped to handle the COVID-19 pandemic.
Interview Highlights
►The offering that Brandao focused on with AFR initially was a Federal Housing Administration product down to a 500 FICO score. She said the company was dedicated to the broker space for four years because of the connection that can be developed with partners. AFR would later move into correspondent lending and a number of other products.
►Brandao said that AFR worked on every aspect of its business before realizing it needed to find its identity. They started working with manufactured home loans and that is what the company is well-known for. She said they found a market they were really good at and led the way.
►She believes that working as a generalist sounded great at first, but the company made the mistake of thinking it needed to be everything to everyone. At that point, it wasn't really known for anything until specializing in manufactured home loans.
►"I don't care about the cycles, there is always going to be cycles. Ups and downs, ins and outs, compliance, and changes in rates that's never changing. That's what we signed up for, that's the mortgage business, it's not changing."
►Brandao says starting a podcast can be a useful marketing tool for a broker. If she were a broker looking to start one, she would look for leaders within her community, connect with them and ask them if they would like to speak about what they are doing to benefit the community. At that point, those leaders will be marketing their appearance with a broker and it could be a great way of gaining leads.
Check out the complete interview between Brandao and Berman below.