Dahleen Shares Predictions On The Future Of Mortgage Tech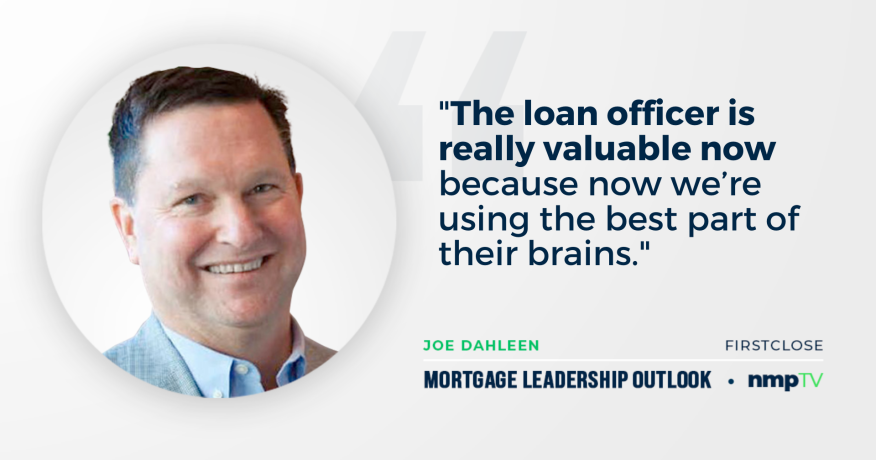 Wednesday's episode of the Mortgage Leadership Outlook featured Joe Dahleen, senior vice president of strategy and sales for FirstClose. Dahleen joined series' host Andrew Berman, head of engagement and outreach for National Mortgage Professional magazine, to discuss the technology shift that occurred over the years within the industry and where he sees it going in the future.
When high tech was going from thermal faxes to plain paper, Dahleen was creating pricing and eligibility engines to run in the palm of your hand. He's been on top of major digital shifts long before the industry was aware of that new technology.‍
Highlights From The Interview:
When the housing crisis hit, Dahleen launched a mortgage business called Go Financial Solutions with a few friends. With it, the team launched eNotes and eMods as a part of the company.
In 2007, he joined the board for Zillow and for five years, watched everything they did in the Zillow Mortgage Marketplace. He realized the impact of what Zillow was doing back then and noticed that everything was moving to automated closing and automated disclosures. He then envisioned automation happening at the point of sale.
"The consumer is in control now. The consumer at the point of sale is the one that is initiating these things. They're pulling their own credit, they're doing their own verification of income, their own verification of assets, aggregating their own bank accounts, verifying their identity and they're signing on to these banking platforms to pull down data," said Dahleen when asked what originators should be seeing at this point in the mortgage industry.
Dahleen said the consumer wants little contact (maybe an email or a text here and there), transparency and identity management. He said today the mortgage process is really customer-initiated and customer-driven.
"If you're not doing it for the consumer upfront, at the point of sale and giving them rates and closing costs in an [loan estimate] instantaneously, you don't have a shot at getting a refinance closed."
"The future is really all about generating instant decisions, instant commitment letters and automated LEs. That doesn't mean the loan officer is going away. The loan officer is really valuable now because now we're using the best part of their brains. The loan officer now can use their cerebral way to help and provide advice and experienced advice to clients making these big decisions in their life."
Check out the full conversation between Dahleen and Berman below.
Previous guests include Tim Nguyen, Kristy Fercho, Tony Thompson, Mat Ishbia, David Luna, Barry Habib, Rob Chrisman and more.
See all the interviews from the Mortgage Leadership Outlook series on the NMPTV Youtube Channel.