McAllister Talks Empower Funnels' Origination Process, Best Practices And More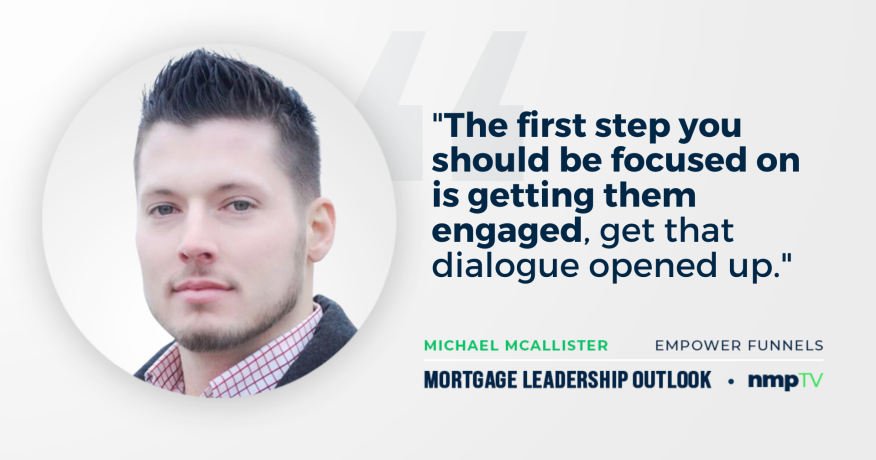 The Mortgage Leadership Outlook continued on Wednesday, Aug. 5, with Empower Funnels founder Michael McAllister. He joined host Andrew Berman, head of engagement and outreach for National Mortgage Professional magazine, as they discussed how McAllister's company goes about its origination process, his drive to become successful, how his company dealt with the effects of the COVID-19 pandemic and more.
As an originator for various sized mortgage companies, McAllister learned to hack the sale process to deliver leads for his own pipeline. He took those skills and created a company that offers these services to other mortgage companies. He recently opened a mortgage brokerage to make sure he stays in sync with the market.
McAllister started working as a home mortgage consultant for Bank of America at 21. He was never the natural salesperson who went to a happy hour and left with a bunch of leads. However, he does believe that the ability to become a good loan officer comes down to the right direction, leadership, drive and ability to work the leads that are generated.
Highlights From The Interview
McAllister believes that the quality of the people you have at your branch will ultimately prevent you from being replaced by a retail call center. The ability to talk and connect with customers is what McAllister holds high, despite it not fitting his own personality.
"The idea of funnel focused selling was designing your sales process around reaching the next step of the sales process. If I've got a lead that I'm engaging with, too many loan officers are already thinking about qualifying that lead and whether or not they can get a mortgage. But that's not the first step you should be focused on. The first step you should be focused on is getting them engaged, not just a response from the lead that we do with our automated system, but an engagement, get that dialogue opened up," said McAllister.
"We jumped ahead with the messaging from the get-go. We said, 'Hey look, the companies that took the most market share during the recession are the companies that doubled down on their marketing, this is what we've been waiting for is that opportunity to take market share."
"The first step of our funnel is the Google ad. They search something, they click on our ad in Google, then they land on a landing page, fill out a lead form with 10-12 different questions. So, they already should have a fairly high level of intent."
"As soon as the lead comes in, we're adding these leads to an automated follow-up sequence that includes, ringless voicemails, text messages and emails. That's going to get the response for them. The nature of that initial response is almost always based on how we structure our automated follow-ups, identifying why they reached out in the first place."
"The engagement piece is transitioning from 'I know that's what you're trying to get out of it, here is what I need to be able to do so,'" said McAllister. He added that if you can get them on a phone call or get them to call you back if they're busy, that qualifies as an engagement.
McAllister said that his company sent their employees home about a week before the mandatory stay-at-home orders, as a result of the COVID-19 pandemic. He said it was a whirlwind the first couple of weeks in March because loan officers were getting worried about tightened capital markets, loans falling out because of guidelines or borrowers who were getting laid off.
"There was a week where we lost three or four clients, our average retention is about 92-93%, so it wasn't more than we would but it happened quick enough and they all cited COVID," said McAllister when speaking about how his team was impacted by the pandemic.
Check out the full interview between McAllister and Berman Below.
Previous guests include Katherine Gardner, Nomi Smith, Joe Dahleen, Tim Nguyen, Kristy Fercho, Tony Thompson, Mat Ishbia, David Luna, Barry Habib, Rob Chrisman and more.
See all the interviews from the Mortgage Leadership Outlook series on its YouTube channel.