Mortgage Rates Hit Record Low For The Eighth Time This Year
Mortgage rates made yet another plunge into historic low territory for the eighth time this year. Freddie Mac's Primary Mortgage Market Survey reported the 30-year fixed-rate mortgage at an average of 2.88%, a new record low in the survey's history dating back to 1971.
"The resilience of the housing market continues as mortgage rates hit another all-time low, giving potential buyers more purchasing power and strengthening demand," said Sam Khater, Freddie Mac's chief economist. "We expect rates to stay low and continue to propel the purchase market forward. However, the main barrier to rising demand remains the lack of inventory, especially for entry-level homes."
The 30-year fixed-rate mortgage average is down 0.11% from its previous week average of 2.99%. Additionally, the 15-year fixed-rate mortgage averaged 2.44%, down from 2.51% a week ago and 3.05% from a year ago. The 5-year Treasury-indexed hybrid adjustable-rate mortgage averaged 2.90%, down from 2.94% last week and 3.36% a year ago.
Click here to view Freddie Mac's PMMS.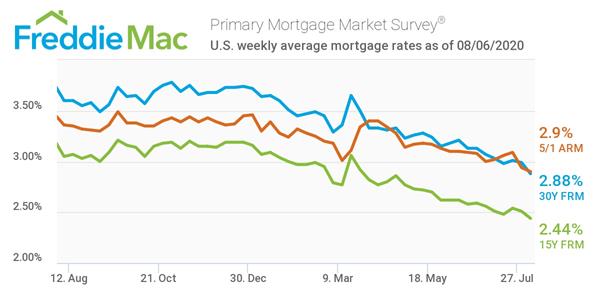 Subscribe to the nmp Daily