Mortgage Rates Jump, Remain Below 3 Percent
The latest Primary Mortgage Market Survey from Freddie Mac revealed that mortgage rates are reversing course. The 30-year fixed-rate mortgage increased to 2.84%, up from last week's average of 2.78%. The 30-year is still very much below last year's average of 3.75% for the same period.
"Mortgage rates jumped this week as a result of positive news about a COVID-19 vaccine," said Sam Khater, Freddie Mac's chief economist. "Despite this rise, mortgage rates remain about a percentage point below a year ago and the low rate environment is supportive of both purchase and refinance demand. Heading into late fall, the housing market continues to grow and buttress the economy."
Additionally, the 15-year fixed-rate mortgage averaged 2.34% up from 2.32% the previous week. That being said it is down significantly from its average of 3.20% last year. The 5-year Treasury-indexed hybrid adjustable-rate mortgage averaged 3.11%, up from last week's average of 2.89%.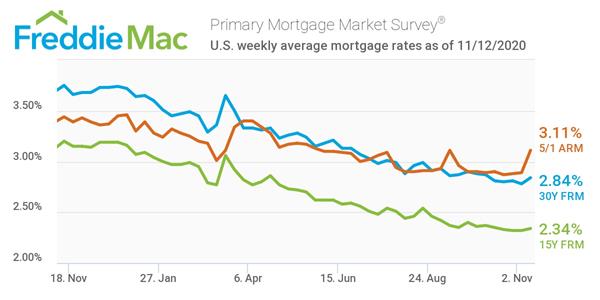 Subscribe to the NMP Daily