Senior Housing Wealth Surpasses $8.05 Trillion
The National Reverse Mortgage Lenders Association reported that homeowners 62 and older saw their housing wealth grow by 3% in the fourth quarter to a record $8.05 trillion.
The report, conducted in conjunction with RiskSpan Reverse Mortgage Market Index, attributed to the increase in senior housing wealth to an estimated 2.7% or $261 billion increase in senior home values, offset by a 1.5% or $27 billion increase in senior-held mortgage debt.
"Reverse mortgages provide a strategic retirement option for older homeowners of all income levels," says NRMLA president Steve Irwin. "Reverse mortgages allow people to pay for in-home care and other services that allow them to age in place or provide an alternative to selling retirement assets after a market downturn. While a reverse mortgage isn't for everyone, it can provide the financial security that many people are looking for in retirement."
Additionally, the report revealed that year-over-year, the RMMI increased by 8.3% in 2020, compared to 5.4% in 2019 and 6.3% in 2018, mainly driven by higher home price appreciation.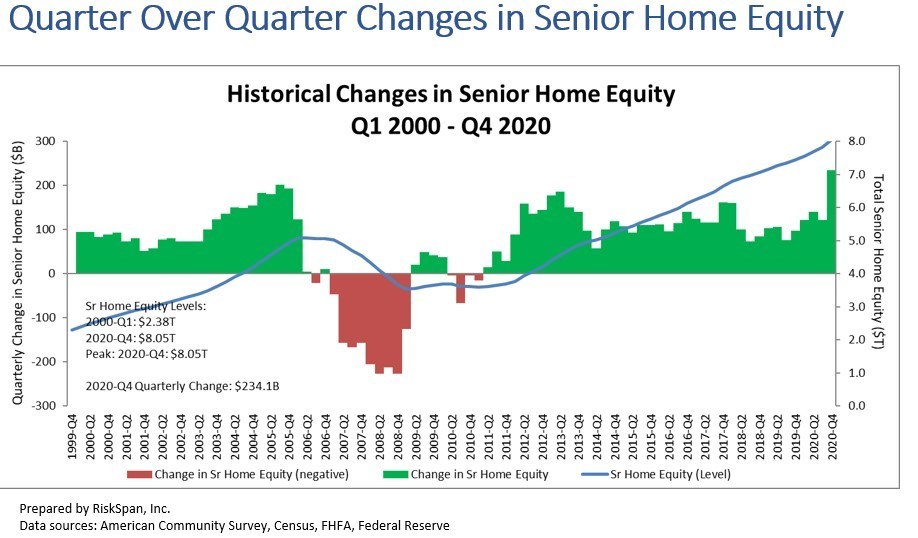 Subscribe to the NMP Daily