ABA Says Credit Crunch Looms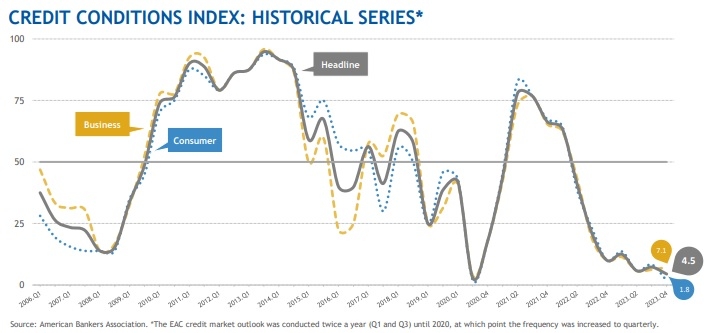 Q4 2023 American Bankers Association Index indicates a cautious economic outlook for both consumers and businesses.
The American Bankers Association's recent Credit Conditions Index, unveiled Tuesday, reveals bank economists are predicting a downturn in credit conditions for the coming six months.
The Q4 2023 insights show a prevalent sentiment among EAC economists: both consumers and businesses can anticipate a decline in credit quality and availability in the forthcoming period.
For consumers, their spending has largely propelled the U.S. economy. However, a deceleration is on the horizon, attributed to subsiding wage growth, the exhaustion of savings accumulated during the pandemic, and the imminent resumption of student loan repayments. Notably, there's been a surge in reliance on credit cards, bringing delinquency rates on par with those before the pandemic, although they remain significantly below the figures seen in the 1990s and 2000s.
On the business front, there's been a marked decline in commercial and industrial lending for the better part of 2023. Many entrepreneurs have adopted a cautious or "risk-off" stance. Echoing this sentiment, EAC's projections foresee a mere 1% annual growth in business investments in the upcoming year. Nonetheless, businesses are still in relatively good stead, with modest financial stress levels and consistent consumer demand providing a robust cash flow.
Breaking down the Q4 findings:
Headline Credit Index: It decreased by 2.8 points to settle at 4.5 in Q4. This mirrors the shared perspective among bank economists that the credit landscape will face challenges in the succeeding two quarters. Banks are anticipated to tread with caution in offering credit to businesses and consumers alike in the upcoming year.
Consumer Credit Index: A sharp decline was observed, with the index plummeting by 6.5 points to 1.8 in Q4. There's a unanimous prediction among EAC members of a reversion in consumer credit quality to historical averages in the subsequent six months. A majority also foresee a decrease in credit availability. The sub-50 reading serves as a caution that consumer credit conditions might face headwinds in the future quarters.
Business Credit Index: This index witnessed a slight uptick, rising by 0.9 points to 7.1 in Q4. Though the majority of EAC members are bracing for deteriorating credit conditions for businesses in terms of both quality and availability, a few remain optimistic, expecting minimal shifts. The sub-50 reading, however, suggests that the business credit sector may not be immune to challenges in the next quarters.