AIME Bars Loan Factory CEO For Rejecting UWM, Others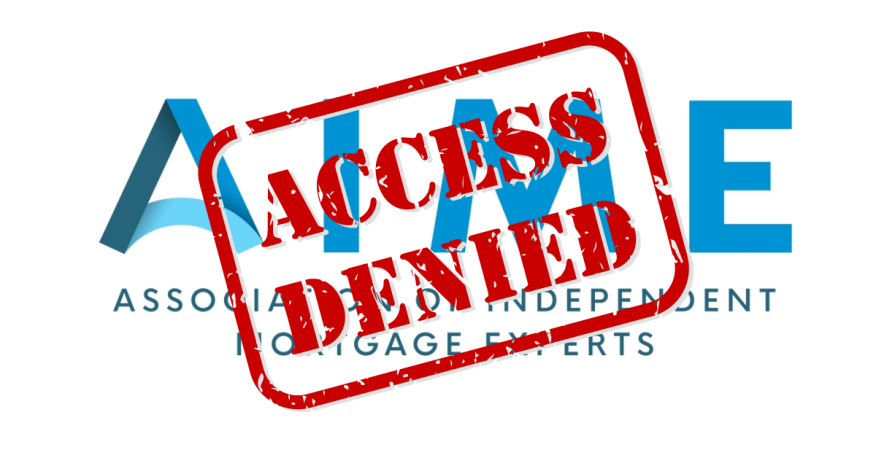 AIME CEO personally invited Thuan Nguyen to Hall of AIME event, only to rescind that invitation two days before. His crime? Not partnering with UWM.
In March 2021, broker partners of United Wholesale Mortgage (UWM) were issued an addendum stating they could no longer also do business with either Rocket Mortgage or Fairway Independent Mortgage. Those who continued to work with either lender would no longer be allowed to do business with UWM. 
This was a first-of-its-kind ultimatum to ever hit the broker community as nothing similar to a non-compete agreement had ever been issued by a lender before. 
Response From Associations 
A few broker associations objected to the controversial ultimatum, but not without UWM CEO Mat Ishbia snapping back. Bob Broeksmit, current president & CEO of the Mortgage Bankers Association, said, "MBA does not condone activities designed to thwart competition in the mortgage market and limit loan options available to borrowers."
"We're not sure this is even legal. It certainly isn't ethical," added Kimber White, president of the National Association of Mortgage Brokers (NAMB). "We support all lenders and your choice for whomever best supports you, your business and your borrowers. We're NAMB for all." 
One association, though, sided with UWM. The Association of Independent Mortgage Experts (AIME) has always been a strong supporter of UWM, its title sponsor from its inception.
Following UWM filing a lawsuit against America's MoneyLine for violating the "All-In" policy initiative, a number of broker associations have remained quiet on the issue, except AIME. AIME CEO Katie Sweeney issued a statement on the matter:
"Accountability is essential to maintaining the reputation the broker channel has worked so diligently to repair. While AIME is not able to weigh in with a legal opinion, we do believe that if the terms of a contract are violated it is reasonable to expect the party at fault to be held accountable.
"We encourage all of our members who are not comfortable signing a broker agreement from any lender to consider working with the other 75+ wholesale lenders available. We have countless lenders that have been thoroughly vetted by AIME, all of which have signed contracts that clearly define the actions and expectations of our partnership to ensure we are aligned in our mission. Should any one of those partners violate our mutual agreement, we'd expect to take action and advocate on behalf of our broker members as well."
Thuan Nguyen, CEO of Loan Factory, claims that AIME is so intertwined with UWM, they refuse to connect with any mortgage professionals who are not partners with them. That was Nguyen's experience when he was invited to Hall of AIME, an exclusive event happening tonight at the Fontainebleau in South Beach, Miami.
HALL of 'SHAIME' 
Nguyen -- ranked as the 2021 Top Dollar Volume originator in the nation by Scotsman Guide -- did not sign UWM's "All-In" addendum when it came out; he was never a big fan of the company. He also knew that UWM was AIME's biggest sponsor, so he severed connections with the association as well. That was until Nguyen received an invitation to the Hall of AIME event from Scott Valins, a community committee member for AIME. 
This was followed by another email from Brendan McKay, president of broker advocacy at AIME, who tried to entice Nguyen into attending the event and becoming a member. "AIME is a very different place than what you left," McKay stated in the email. "We are also in a different place. When you left, AIME was still shouting for the attention of the industry. Now we have it. Our focus is organizing and action." 
Sweeney also personally emailed Nguyen to say, "We're very excited to have you join us in Miami and grateful for the opportunity to work with you to better our channel."
Nguyen decided to give the association another chance, thinking that perhaps they were more independent under new leadership. It cost him $1,000 to register for the event, and thousands more to book a flight to Florida and a hotel room — all within a few days. 
He was even mentioned in an email inviting attendees to the event. "Hall of AIME is limited to the best, brightest, and highest-producing mortgage brokers in the country. In attendance will be a representation of the top Scotsman Guide performers, including Thuan Nguyen from Loan Factory."
Canceled
Despite all the preparation and the special mention, Nguyen won't attend tonight's event. 
Two days ago, he received a call from AIME's director of membership, Candace Morris, saying he can't attend because he is not working with all of AIME's partners. His registration was canceled at the last minute.
Nguyen then asked Morris whether she was referring to UWM when she said he was not working with their partners, and Nguyen claims she confirmed that was correct. 
Oddly enough, two of Nguyen's loan officers from Loan Factory — both of whom do not work with all of AIME's partners — were invited to attend, yet they did not have their invitations revoked. 
"They're allowed to go to the event because AIME and UWM want to recruit them," Nguyen said. "I was so angry over the phone call with Candace, I forgot to mention my loan officers who were still able to go."
He then sent an email to Valin and McKay, the AIME members who originally invited him, and expressed his frustration. The email read as follows:
I just got a message from Candace Morris that my registration/ticket to the Hall of AIME has been canceled in the last minutes. The reason is that one of the partners does not want to see me there. And I am 100% sure that the partner is UWM.

It is less than 2 days away from the event. I have already arranged my busy time to be there to see that AIME is "a different organization".

I am very upset.

I do not understand as a top broker and in your position of leading a big organization, why would you break all your policies and principle (sic) due to the pressure of a partner? That is no different than a puppet organization.

I could not find the correct word to express my feelings. I feel that I am being fooled.

Scott Valins is also being fooled. And many others are being fooled to serve and believe that "AIME HAS CHANGED". AIME and the leaders are still being controlled by money.

I am planning to share everything with all other brokers. Many other brokers planned to be there to see me. I will share this story with them too. There are a few facts that when I reveal, will make things a lot worse.

Well, you will do what is right for you and YOUR ORGANIZATION.
"I was so upset over the phone call with Morris that I didn't think to record the conversation. The next time I called her back and recorded the whole thing," Nguyen said. 
In the recording, Nguyen asks Morris whether she canceled the invitation because he does not work with UWM. Morris stipulates that his registration was canceled because he does not work with AIME's partners — emphasis on the plural to avoid naming any specific company. 
Despite having been personally invited by AIME leadership and having booked the entire trip, all Nguyen received in return was an "I'm sorry" from the organization — the equivalent to a shoulder shrug. 
"I recognize that you're upset. I would be too," Mckay responded. "I do not have a response that you will find acceptable, but I do apologize. I recognize how hollow that may sound, but it is sincere."
Nguyen requested an apology from the leaders of AIME who revoked his invitation after personally inviting him to the event. Morris said they were traveling to Miami and were unable to respond. 
Since the phone call took place, Nguyen's loan officers have been getting calls from recruiters. "I can't prove it's UWM calling them on the phone, but I know it is," he said. "Who else could it be? They're saying terrible things, really mean things about me, so they'll leave for my competitors."
Neither AIME nor UWM immediately responded to a request for comment. After initial publication, AIME provided a note asserting a different reason for disinviting Nguyen. NMP has asked AIME for proof in writing of that claim, but has not been provided it. 
Correction (02/10/22): A prior version of this article made an incorrect reference to former MBA CEO David Stevens.  Additionally, Robert Brokesmit is the current MBA CEO.