Annual Home Price Growth Slowed To 2-Year Low In November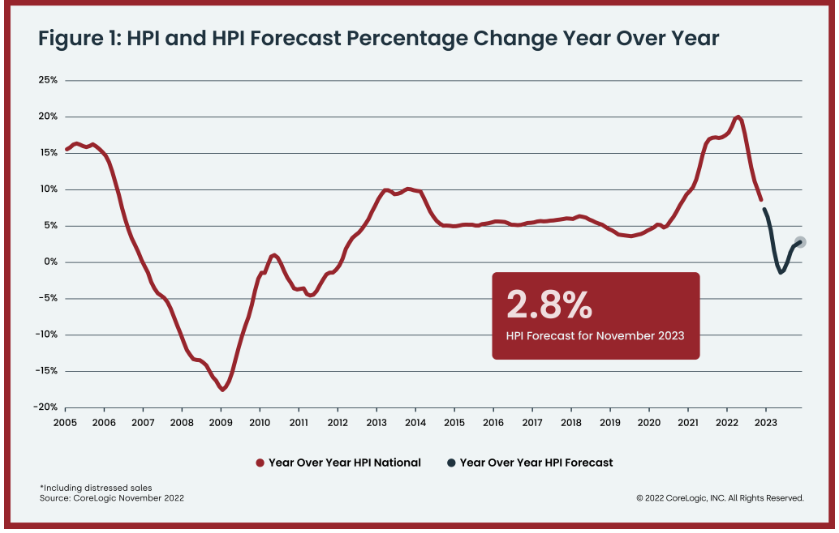 CoreLogic expects annual price changes to move into negative territory by the spring of 2023.
KEY TAKEAWAYS
Year-over-year home price growth increased 8.6%, the lowest appreciation in two years.
In November, the annual appreciation of attached properties (8.8%) was 0.3 percentage points higher than that of detached properties (8.5%).
Year-over-year home-price growth ended its 21-month streak of double-digit momentum in November, posting an 8.6% gain, the lowest rate of appreciation in exactly two years, according to CoreLogic's Home Price Index and HPI Forecast for November 2022.
On a month-over-month basis, home prices declined by 0.2% compared to October.
In November, the annual appreciation of attached properties (8.8%) was 0.3 percentage points higher than that of detached properties (8.5%).
Although 16 states bucked the national trend and saw annual double-digit increases, appreciation is decelerating in many popular housing markets across the country. Southeastern states still led the country for price growth in November, but also saw some of the most pronounced cooling. 
Relatively more expensive Western areas also posted substantial combined declines in recent months since last spring's peak.
Nationwide, the recent price deceleration pushed November home values 2.5% below the spring 2022 peak. In 2023, CoreLogic says home values will likely move even further from that high point, as it expects price growth to begin recording negative year-over-year readings in the second quarter.
"Although home-price growth has been slowing rapidly and will continue to do so in 2023, strong gains in the first half of last year suggest that total 2022 appreciation was only slightly lower than that recorded in 2021," said Selma Hepp, executive, deputy chief economist at CoreLogic. "However, 2023 will present its own challenges, as consumers remain wary of both the housing market and the overall economic outlook."
Hepp continued, "And while the recent decline in mortgage rates may bode well for the housing market, potential homebuyers are grappling with the idea of buying amid possible further price declines and a continued inventory shortage. Nevertheless, with slowly improving affordability and a more optimistic economic outlook than previously believed, the housing market could show resilience in 2023."
The report also shared that annual U.S. home price gains are forecasted to slow to 2.8% by November 2023.
Miami posted the highest year-over-year home price increase of the country's 20 largest metro areas in November, at 21.3%, while Tampa, Fla., retained the No. 2 spot at 17.3%.
Florida and South Carolina recorded the highest annual home-price gains, at 18% and 13.9% respectively. Georgia posted the third-highest growth, with a 13.6% year-over-year increase. Washington, D.C., ranked last for appreciation at 1.2%.