Congress Passes Legislation To Extend National Flood Insurance Amid Shutdown Concerns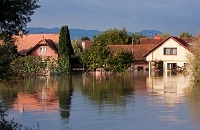 The move ensures continued flood insurance coverage, essential for many homeowners in high-risk flood areas, during peak hurricane season.
In a move to address mounting concerns, Congress approved a stopgap spending bill on Saturday, averting a potential government shutdown and ensuring the continuation of the National Flood Insurance Program (NFIP). The recent turmoil surrounding the government's funding brought attention to the vital importance of such programs, particularly during the hurricane season.
The legislation, commonly referred to as a continuing resolution, will fund the government through Nov. 17. It also greenlights President Joe Biden's $16 billion supplemental for disaster relief and extends the lifeline of the NFIP.
Real estate stakeholders had voiced apprehension over the potential expiration of the NFIP. A lapse could have dramatically disrupted the housing market, as homebuyers in flood-prone regions might have faced difficulties securing mortgages without the necessary flood insurance coverage. On average, just an inch of flooding can result in $25,000 in damages to homes.
Highlighting the potential crisis, the NFIP had warned of its inability to offer new flood insurance or borrow funds in the event of a shutdown. However, it would continue processing existing claims as long as funds remained available.
The real estate market's concerns were amplified by the fact that federally backed or regulated lenders require flood insurance for properties located in high-risk areas, known as Special Flood Hazard Areas. As the primary source of flood insurance in such high-risk regions, the NFIP's importance cannot be understated. Private insurers have often shied away from this challenging market, making the federal program all the more crucial.
According to data from the NFIP, the average claim payout between 2016 to 2022 stood at $66,000. Flood risks have surged over time, with the 2020 hurricane season surpassing 2005 as the year with the most active tropical storms.
The recent agreement, which also includes funding provisions for other essential programs, like the Federal Housing Finance Agency.