Guild Mortgage CEO McGarry Retiring After 40 Years With Lender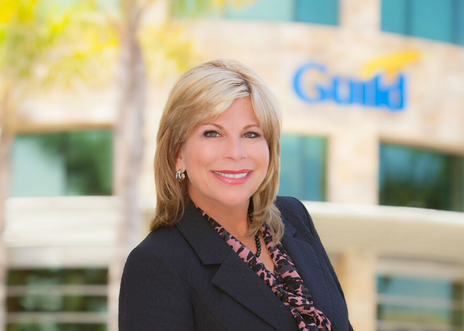 Stepping down June 30; President Terry Schmidt will succeed her as CEO.
Guild Mortgage, a San Diego-based mortgage lender originating and servicing residential loans since 1960, on Monday announced the pending retirement of CEO Mary Ann McGarry, effective June 30.
McGarry who has been CEO since 2007, is retiring following a career of almost 40 years that included leading the company's growth from its base in the western United States to a nationwide lender serving customers in 49 states.
She will continue to serve on the company's board of directors.
Guild President Terry Schmidt will succeed McGarry as CEO, effective July 1, the company said. Schmidt was McGarry's first hire at Guild in 1985, and the two have worked side by side for nearly four decades.
In addition, David Neylan, who joined Guild in 2007 and now serves as executive vice president and chief operating officer, will succeed Schmidt as president while continuing as COO.
"We were favorably impressed with the Guild team and their strategic business plan, which was very relational, aiming to be strong in originating as well as servicing loans," said Patrick Duffy, chairman of the board. "Guild has been a remarkable growth story since McCarthy Capital invested alongside Mary Ann, Terry, and other Guild partners in a management buyout of the company from its founder in 2007."
"On behalf of the board of directors and the entire company," Duffy continued, "we are forever grateful for Mary Ann's extraordinary contributions to Guild. We look forward to continuing our partnership with Mary Ann, as she will remain a significant stockholder and a member of the board. While Mary Ann's integrity, talent, dedication, and energy will be missed inside the business, those qualities are ever present in her exceptional team, which will continue to lead the company."
Robert D. Broeksmit, president and CEO of the Mortgage Bankers Association (MBA), said the MBA is grateful for McGarry's dedication to the industry and her ongoing service as a member of the MBA board of directors.
"It is wonderful in this day and age when someone can be with a company for some 40 years and lead it to profitable and responsible growth," Broeksmit said. "Mary Ann has led Guild so ably. Some get creative and forget about the fundamentals. Her leadership has been innovative and responsible. She set the tone for Guild being proactive in participating in all sorts of programs for the underserved. She has given sensible direction to me and other members of the MBA board and we are thankful for her ongoing contributions to our industry."
McGarry began her career with Guild in 1984 as a supervisor in internal audit. Within three years, she was promoted to senior vice president of loan administration and information technology and, in 1988, was named to Guild's board of directors. She held positions as chief financial officer, chief production operations officer, and chief operating officer before being promoted to president in 2005 and CEO in 2007.
Schmidt said McGarry set high standards for advancing the customer service culture and helping people grow within the company.
"Mary Ann is a people person, and our 'ah-ha' moment was to go beyond focusing on the transaction as an asset only," Schmidt said. "We wanted to build relationships and trust. We want to drive business back to the original loan officer for a better customer experience. Mary Ann was always a champion in this evolution and encouraged input from every corner of the company. Everyone felt they had a voice. This approach took Guild to new levels."
Duffy agreed. "Guild's balanced model, with a companywide cultural focus to create customers for life, was a key pillar," he said. "It provided a differentiator when the company went public in October 2020."
Guild Mortgage is a national lender offering a comprehensive array of loan products and partnering with government organizations to help deliver the promise of home in every neighborhood and community. Guild also helps active duty and retired military personnel who qualify for VA loans with 100% financing and flexible qualifying standards.
Guild Mortgage Co. is a wholly owned subsidiary of Guild Holdings Co., whose shares trade on the New York Stock Exchange under the symbol GHLD.