Housing Market Shows Uneven Recovery: Permits Up, Completions Down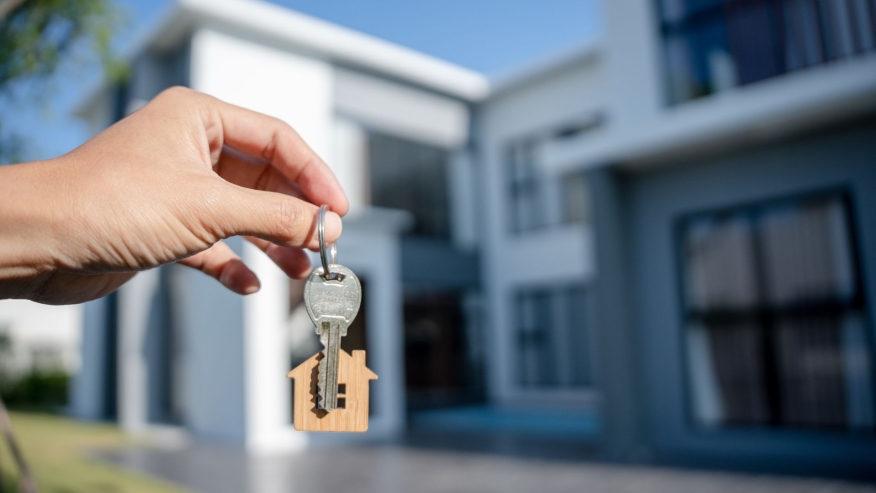 October sees a mixed bag for the housing sector, with a rise in building permits and pending sales but a decline in completions and closed home sales.
The housing market displayed a mix of upward and downward trends in October, according to the latest U.S. Census Bureau data. While there was a slight increase in building permits and housing starts, completions saw a decline, reflecting the ongoing complexities in the housing sector.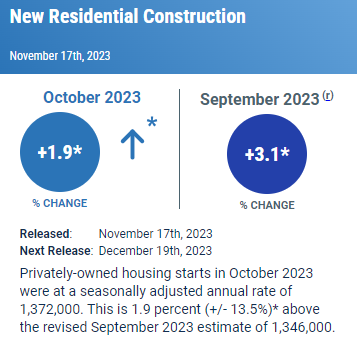 The number of privately-owned housing units authorized by building permits in October reached a seasonally adjusted annual rate of 1,487,000, showing a modest increase of 1.1% over the revised September rate of 1,471,000. However, this rate is 4.4% lower than the October 2022 rate of 1,555,000. Single-family authorizations also saw a small uptick, standing at a rate of 968,000, which is 0.5% higher than September's revised figure of 963,000. 
Privately-owned housing starts in October were at a seasonally adjusted annual rate of 1,372,000. This represents a 1.9% increase over the revised September estimate of 1,346,000 but is 4.2% below the rate in October 2022.
Contrasting with the slight growth in permits and starts, housing completions in October experienced a decline. The seasonally adjusted annual rate was 1,410,000, a 4.6% decrease from the revised September estimate of 1,478,000. However, it was 4.6% higher than the rate in October 2022. 
According to Redfin, pending home sales increased by 1% month-over-month in October, reaching the highest level in a year on a seasonally adjusted basis. This improvement comes amidst a year-over-year fall of 4.8%, marking the smallest annual decline in almost two years. 
October saw new listings comparable to September's levels, the highest in six months, with active listings rising 1.4% month-over-month. This increase in inventory, although still 12.5% lower than last year, is the smallest decline in four months, giving buyers more options.
To entice buyers, approximately 20.8% of homes sold in October experienced a price drop, and over one-third of sellers offered concessions, including funds for repairs and closing costs. These incentives are crucial in a market where high mortgage rates, which slightly fell towards the end of October, have sidelined many potential buyers. These rates have continued to decline into November, potentially signaling further increases in pending sales.
Despite these positive signs, closed home sales continue to decline, falling 1.8% from the previous month and 12.5% from last year. This decrease is partly attributed to a high cancellation rate of home-purchase agreements, with approximately 17.2% of contracts falling through in October — the highest rate since Redfin records began in 2017.
"I've had a lot of sellers reach out to me recently saying they're ready to list their homes — a reversal from recent months," said Heather Mahmood-Corley, a Redfin Premier real estate agent in Phoenix. "Everyone has a different reason for relocating. One of my sellers is moving because she wants to buy her father's house and he's giving her a deal, which helps offset the higher mortgage rate she'll take on. Another is moving to Florida with her sister because her husband passed away; she built up a lot of equity, so is able to pay in cash. Other people are selling because they want to live somewhere more affordable."
"I'm seeing a lot of cold feet," said Redfin Tampa Sales Manager Eric Auciello. "Home prices are high, mortgage rates are high and insurance costs are high, and when buyers see the final number, a lot of them are backing out."
Some buyers are also walking away when sellers refuse to fix issues that come up during the inspection, according to Mahmood-Corley.
"Buyers want turnkey houses because everything is so expensive now, whereas in 2021 and 2022, they felt lucky to get any house," she said. "And while I'm seeing more sellers in the market, they're squirrely too. They're backing out when they don't get the price they want."
The median U.S. home sale price rose 3.5% year-over-year to $413,874 in October, only 4.4% below the May 2022 record high.
Metro-level data reveals varying trends across the U.S., with pending sales increasing significantly in areas like North Port, Fla., and Dallas, Texas. However, Greensboro, NC, and Birmingham, AL, experienced notable declines. Price movements also varied widely, with some metros like Lake County, IL, and Newark, NJ, seeing significant increases, while others like North Port and Austin, TX, saw decreases.
Active listings grew the fastest in Cape Coral, FL, and North Port, while competition remained highest in Rochester, N.Y., where the majority of homes sold above their final list price. In contrast, areas like North Port and Cape Coral, Fla., saw the lowest shares of homes selling above list price.
This mixed picture of the U.S. housing market indicates a complex interplay of factors, including fluctuating mortgage rates, varying regional dynamics, and the ongoing impact of economic conditions on buyer and seller behavior.