Mortgage Credit Availability Hits Lowest Level Since 2013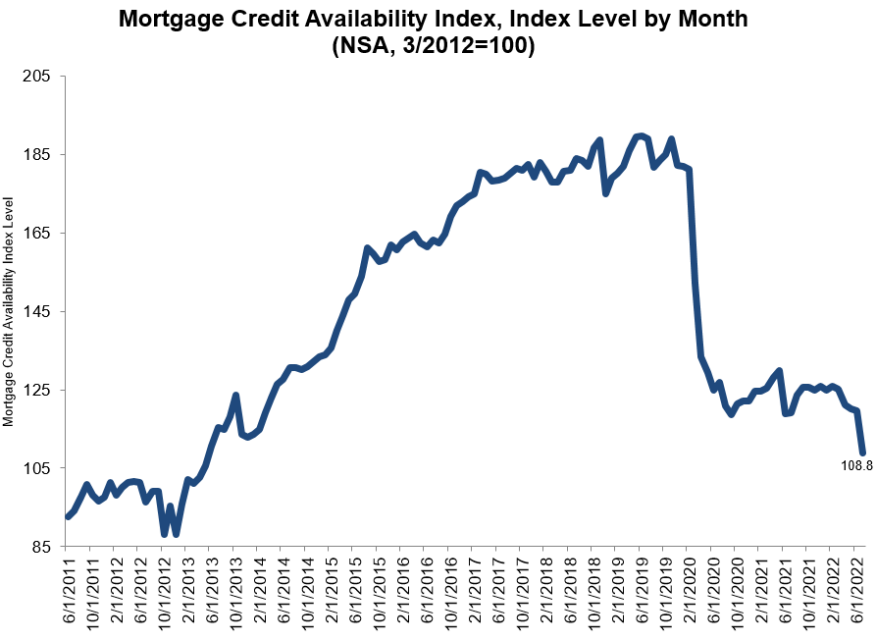 Drop driven by lenders streamlining offerings; jumbo credit drops 13.4%.
KEY TAKEAWAYS
Mortgage Credit Availability Index fell by 9%, lowest level since March 2013.
The Jumbo MCAI decreased by 13.4% while the Conventional MCAI decreased 9.8%.
Mortgage credit availability decreased in July to its lowest point since March 2013. That's according to the Mortgage Credit Availability Index (MCAI), a report released today from the Mortgage Bankers Association (MBA) that analyzes data from ICE Mortgage Technology.
The MCAI fell by 9% to 108.8 in July. A decline in the MCAI indicates that lending standards are tightening, while increases in the index are indicative of loosening credit. The index was benchmarked to 100 in March 2012.
The Conventional MCAI decreased 9.8%, while the Government MCAI decreased by 8.4%. Of the component indices of the Conventional MCAI, the Jumbo MCAI decreased by 13.4%, and the Conforming MCAI fell by 3.3%.
"Credit availability fell last month to the lowest level since May 2013, as lenders streamlined their loan offerings in this declining volume environment," said Joel Kan, MBA's associate vice president of economic and industry forecasting. "The 9% decline in the July index was the largest monthly decrease since April 2020. Lenders have responded accordingly to the decrease in demand for refinance and purchase loans by reducing loan offerings, including for ARMs, cash-out refinances, and investment properties."
Kan added, "The overall general tightening in credit availability also affected jumbo loans and Non-QM loan programs."
The MCAI is calculated using several factors related to borrower eligibility (credit score, loan type, loan-to-value ratio, etc.). These metrics and underwriting criteria for over 95 lenders/investors are combined by MBA using data made available via ICE Mortgage Technology and a proprietary formula derived by MBA to calculate the MCAI, a summary measure which indicates the availability of mortgage credit at a point in time. Base period and values for total index is March 31, 2012=100; Conventional March 31, 2012=73.5; Government March 31, 2012=183.5.