Mortgage Rates Fall For 2nd Straight Week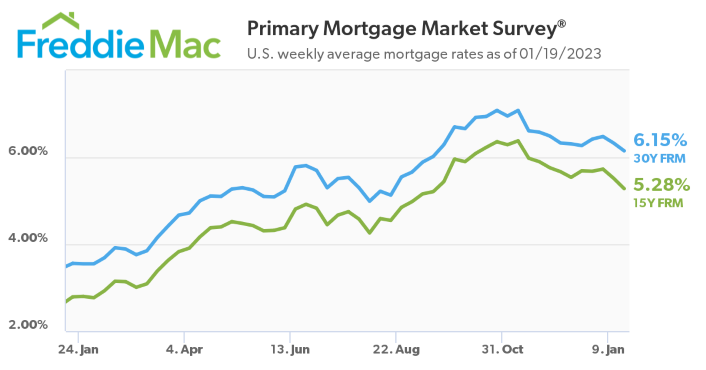 30-year fixed falls to 6.15%, lowest since September 2022.
KEY TAKEAWAYS
30-year fixed fell to 6.15% from 6.33% the previous week.
15-year fixed fell to 5.28% from 5.52% the previous week.
Mortgage rates fell for the second straight week, reaching a level not seen in four months, according to the latest survey by Freddie Mac.
The government-sponsored enterprise said Thursday that its weekly Primary Mortgage Market Survey (PMMS) for the week ended Jan. 19 showed the 30-year fixed-rate mortgage (FRM) averaged 6.15%.
"As inflation continues to moderate, mortgage rates declined again this week," said Sam Khater, Freddie Mac's chief economist. "Rates are at their lowest level since September of last year, boosting both homebuyer demand and homebuilder sentiment."
Khater added that falling rates "are providing a much-needed boost to the housing market, but the supply of homes remains a persistent concern."
According to the PMMS:
The 30-year fixed-rate mortgage averaged 6.15% as of Jan. 19, down from last week when it averaged 6.33%. A year ago, the 30-year FRM averaged 3.56%.
The 15-year fixed-rate mortgage averaged 5.28%, down from last week when it averaged 5.52%. A year ago at this time, it averaged 2.79%.
Fannie Mae's PMMS focuses on conventional, conforming, fully amortizing home purchase loans for borrowers who put 20% down and have excellent credit. 
Realtor.com Economist Jiayi Xu, Ph.D., mortgage rates fell as inflation improved, but the economy still faces hurdles.
"Although the slower inflation rate in December is a positive sign, concerns from businesses and investors about economic growth continue to rise as weaker retail sales data remind us that the U.S. consumer is not invincible," Xu said. 
She noted that while nationwide unemployment remained at long-term lows in December, business and investors continue to watch for an end to the Federal Reserve's rate hikes before confidence will return to the market. 
"With the Fed tightening its monetary policy, the U.S. housing market has been under significant pressure," she said. "While our 2023 forecast anticipates ongoing inflation causing upward pressure on rates, recent favorable data has helped to pull mortgage rates down. As the economy weathers the easing in inflation, mortgage rates may continue to fluctuate in the short term, within the 6%-7% range that we have seen over the past five months."
She added that, while recent lower mortgage rates have slightly improved homebuyers' sentiment, the rates remain more than twice as high as they were one year ago and still create a financial barrier for many buyers, especially first-time homebuyers. 
"For people who are thinking about selling their home, current market conditions may be causing them to hold off," Xu said. "Recent data show that December home sellers faced more competition from other potential sellers, longer time on market, and a greater likelihood of having to lower their asking price. Homeowners looking to sell and buy at the same time, who are likely to have a good rate on their current mortgage, may be hesitant to list their homes for sale and face today's high mortgage rates and home prices. Some are waiting to see if the market improves before putting their home up for sale."