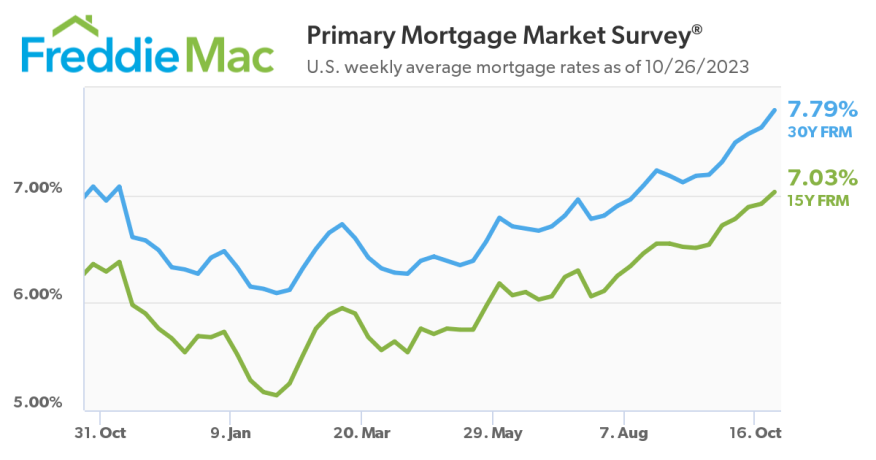 Freddie Mac reports consecutive rise in rates for the seventh week, pushing potential buyers to reconsider as affordability becomes a significant barrier.
Freddie Mac, in its latest Primary Mortgage Market Survey, reported a marked increase in mortgage rates, underscoring the evolving dynamics of the housing finance landscape.
As of Oct. 26, 2023, the 30-year fixed-rate mortgage (FRM) stands at 7.79%. This represents a significant rise from last week's average of 7.63%. Looking back a year, the escalation becomes even more pronounced – in the same period last year, the 30-year FRM averaged 7.08%.
Similarly, the 15-year fixed-rate mortgage hasn't been immune to this upward trajectory. It currently averages 7.03%, which is an increase from the previous week's 6.92%. To put this into context, the 15-year FRM was pegged at 6.36% last year.
"For the seventh week in a row, mortgage rates continued to climb toward 8%, resulting in the longest consecutive rise since the Spring of 2022," said Sam Khater, Freddie Mac's chief economist. "Rates have risen two full percentage points in 2023 alone, and as we head into Halloween, the impacts may scare potential homebuyers. Purchase activity has slowed to a virtual standstill, affordability remains a significant hurdle for many, and the only way to address it is lower rates and greater inventory."
The Mortgage Bankers Association reported that September's national average mortgage payment stood at $2,155, marking an 11% increase, equivalent to $214, from the previous year.
In September, sales of pre-owned U.S. homes dropped for the fourth consecutive month, reaching their most sluggish rate in over 10 years.
According to Bob Broeksmit, president and CEO of the MBA, the lack of inventory and the affordability challenges steer prospective home shoppers to the sidelines.
"We expect mortgage volume to decline nearly 30% this year to $1.64 trillion before an expected 19% rebound in 2024 as rates finally start to trend downward," Broeksmit said.
Elevated rates are curbing new mortgage applications. On Wednesday, the MBA announced that new loan applications reached their lowest weekly rate since 1995. Concurrently, applications for adjustable-rate mortgages increased to 9.5%.
The escalating expenses associated with home loans have disrupted the U.S. housing market.
Meanwhile, countless individuals who secured mortgages at rates of 3% or lower two years ago are now either financially unable or unwilling to relocate, given the present-day home financing costs.