Senior Homeowners See Record Housing Wealth In Q2 2023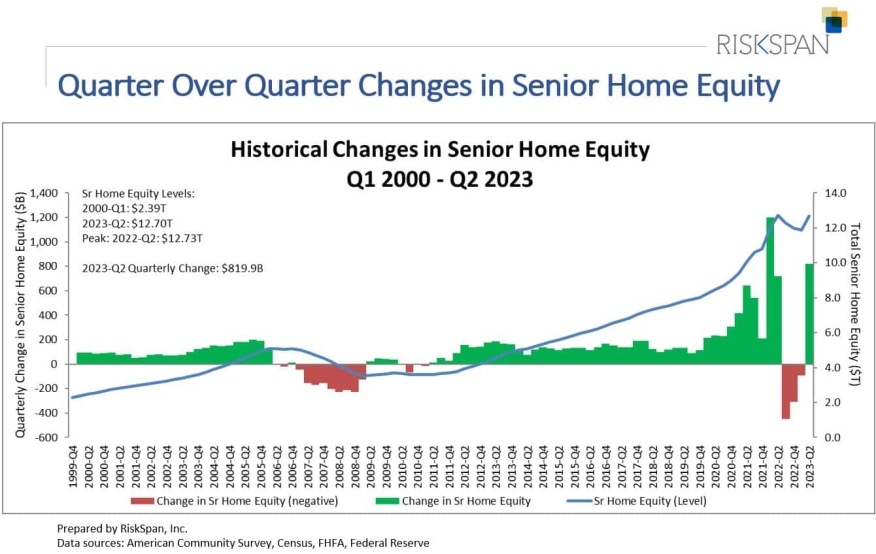 Amidst economic uncertainties, housing wealth for those 62 and older soars.
In the second quarter of 2023, homeowners aged 62 and over witnessed a significant boost in their housing wealth, accumulating an additional $820 billion, raising the total to an impressive $12.69 trillion. This data comes from the latest quarterly report of the NRMLA/RiskSpan Reverse Mortgage Market Index (RMMI).
The RMMI, an instrumental indicator in the reverse mortgage market, rebounded strongly to 444.16, inching closer to its all-time high recorded in Q2 of 2022. The value of senior homes has reached an unprecedented peak of $14.998 trillion. On the flip side, there was a sharp rise in mortgage debt, which skyrocketed to $2.3 trillion. RiskSpan pointed out a similar trajectory in the S&P's National Home Price Index. After peaking in June 2022, there was a noticeable dip until January 2023, followed by a significant revival.
"Inflation is still a concern, and some economists are still predicting a possible mini recession in 2024, so this is welcome news to see home equity levels are rebounding somewhat," says NRMLA President Steve Irwin. "The strategic use of home equity can play an important role in helping to offset the impact of these economically challenging times and is something that every homeowner should consider when developing or updating their retirement plan."