Shareholder Lawsuit Challenges Rithm's Bid For Sculptor Capital Management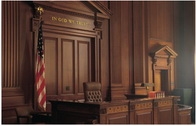 Former execs, including Dan Och, argue the $676 million deal prioritizes CEO Jimmy Levin's interests over shareholders; push for rival group's higher bid to be considered.
Rithm Capital Corp., the parent company of Newrez LLC and Caliber Home Loans Inc., may have sweetened the deal to purchase Sculptor Capital Management Inc., but it wasn't enough to stave off a shareholder lawsuit before the deal was inked.
Dan Och, Sculptor's founder, and a group of former executives of Sculptor Capital Management sued the hedge fund and Rithm Capital, saying the $676 million deal would shortchange investors in favor of preserving Sculptor CEO Jimmy Levin's job.
Och, who left New York-based Sculptor in 2019, said on Oct. 17 in a statement that he wants a Delaware judge to halt the buyout until a rival group led by Saba Capital Management's Boaz Weinstein is able to present its higher bid to shareholders. Weinstein's group, which includes billionaires Jeff Yass, Marc Lasry and Bill Ackman, has offered to pay $13 a share for Sculptor, which last week accepted Rithm's $12 bid.
Central to the lawsuit is the claim that the board's actions seem to prioritize the interests of Sculptor's CEO Levin over shareholders. Notably, Rithm has committed to retaining Levin as chief investment officer with a lucrative pay package. In contrast, the Weinstein group's plan would introduce new personnel to the investment team, potentially diminishing Levin's role.
The lawsuit alleges that in recent years, Levin has strategically positioned directors favorable to him, leveraging his position to secure substantial compensation, including a $145.8 million package in 2021. According to the complaint, this package played a significant role in the company's decreasing equity value, with shares plummeting from $20.02 to $9.42 from December 2021 to July 2023.
Given the looming merger with Rithm, the lawsuit urgently pushes for multiple injunctions. These include preventing Rithm from finalizing the merger until the Weinstein group's plan can be reviewed without restrictions, reinstating a merger provision requiring majority approval from independent shareholders, and reducing the merger's break-up fee to its original amount. The shareholder suit also seeks to have the lawsuit classified as a class action, with the plaintiff representing all affected shareholders.
In a statement on the lawsuit, Rithm said it remained committed to its proposal.
"Our recently announced amended agreement—which has received all necessary regulatory approvals and, as of today, has achieved all of the appropriate consents from clients necessary to complete the transaction—further maximizes value and reiterates this commitment," the statement says. "Unfortunately, the noise around this transaction, including the litigation by the Former EMD Group, will only continue to increase costs and otherwise risk harm to Sculptor, which negatively impacts Sculptor shareholders."
A special meeting has been set for Nov. 16, where Sculptor's board has urged shareholders to vote in favor of the Rithm deal.