The Top LO's Top 10 List For Growth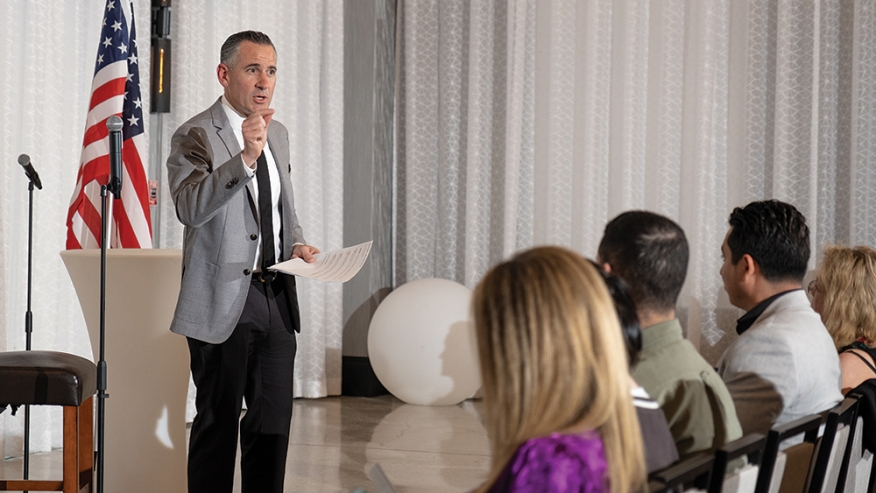 Matt Weaver, left, agrees with former NFL coach Vince Lombardi that 'success demands singleness of purpose.'
Matt Weaver says success is more simple than it seems.
One of the nation's top-ranking loan originators has opened his playbook.
Matt Weaver, CrossCountry Mortgage's vice president of mortgage sales, claims his secrets to success are not rocket science, but rather, simple life affirmations.
Weaver, who has been Florida's top LO since 2020 and is among the top originators in the nation, presented his Top 10 tips for high-level loan originations during a webinar hosted in conjunction with Nationwide Property & Appraisal Services (NPAS) this week.
The bottom line to his presentation, full of inspiration from professional athletes and teams, was that any loan originator has what it takes.
Purpose, Process, Pain
Weaver began his Top 10 with a quote from the late NFL football coach, Vince Lombardi: "Success demands singleness of purpose."
One of the Weaver team's greatest advantages in any market, he went on to explain, is knowing its customer, which in their case, is the real estate agent.
"When interest rates were 2% our customer was the real estate agent; if rates climb to 9% our customer is still the real estate agent," Weaver said, adding that others can hone their own focus.
No. 2 is having a scripted process. "In 2010 I whiteboarded our process from beginning to end," he said. "A scripted process allows us to know what works and what doesn't work. It allows us to give the ingredient to our real estate partners which is consistency."
Which leads to the third tip: "Cure the Pain."
A nagging pain for agents is a multiple-offer environment, for example. Weaver's team uses a scripted offer process "designed to compete and win in this market."
"Every single consumer and customer has pain and it is our job to deliver the solution to their pain," he said.
Focus On Offense, Add Talent, Fight Complacency
"Take time on a daily basis to think," Weaver said. "When we are creating we are now proactive versus reactive."
He said his team spends so much time in their creative space that it keeps them on the offense vs. defense.
"Too often LOs are putting fires out and those fires are dictating their day," Weaver said. "Spend time in the thinking space with a notepad and pen and think about how you can create a better process and serve your customer to a higher level."
Crafting the right team is also on his list.
"We are as good as the talent we have on our team, whether it's the first hire or the 19th hire, it must be the right players," he said. "For the Matt Weaver Team, we are looking for the patriots, the ones for the mission — not the mercenaries — the ones for the money."
Tip No. 7 brought Weaver into the TD Garden arena for the Boston Celtics.
"The 2007-08 season, Coach Doc Rivers took over the franchise," Weaver said. "Coach understood he had the talent, but they were in disarray."
Rivers introduced his players to the African philosophy of Ubuntu — "I am because we are" — and the team went on to win the league title that year.
Complacency is a disease, according to Weaver. "It's what gives us those peaks and valleys we see, high to low levels of production," he explained. "If we exit out of complacency then we're always going to have high levels of productivity."
A "bad market" is never an excuse.
When loan originations were declining industrywide in 2022, Weaver's team ramped up its output. In big red letters, the phrase "We must outpace the decline in originations" was written for all to see.
"If we want to grow 20% and sales are down 30% it seems to me we need to increase our activities by 50%," Weaver said.
Never Stop Improving, Have Fun, Think Big
Weaver says he knows he can do better.
"Self improvement is a never ending journey, something we can never stop doing," he said. "The Weaver Team is always looking at our misses versus our makes. We can never be complacent in thinking our service levels are the best."
He went on to encourage other LOs to reach out to people they admire and ask for help.
Weaver's No. 9 tip might surprise some, after reading the rest of the list.
"Have fun," he said. "If you're not having fun at what you're doing, you're not delegating enough. It's because you're doing the parts you don't enjoy, the parts you don't have a passion for."
Every morning at 8, Weaver and his partner talk and laugh. They made a promise to each other to always stay giddy.
The final tip on this LO's list for success was "Think Big."
"I don't have 15, 20 LOs writing business in my name," Weaver pointed out. "I'm saying that to you not to boast or brag, but because you too can do the same thing if you think big enough. We all have the talent to do incredible things. If I can do it, you can do it, and I truly mean that."