News From NAMB - Thursday, May 7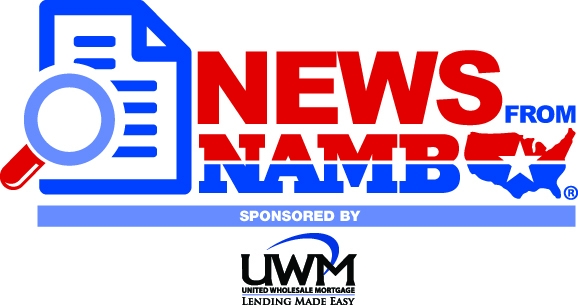 You may have noticed that News From NAMB is not just links to other media stories but also goes to primary sources.  Because NAMB is deeply involved in so many facets of our industry, we find important information that may not be reported elsewhere.  Best of all, it is free to NAMB members. News From NAMB is sponsored exclusively by United Wholesale Mortgage.  Please support United Wholesale as they support our industry.  Click here to sign up. 
United Wholesale Unveils Incredible New Benefit!
(Advertisement)
United unveils Unite, a new program where your borrower is sent a quarterly email, branded with your name, for loans closed with United Wholesale.  The email will include information about the borrower's home, loan, and local market.  Plus, you will get an update report every month on the status of every loan sent to United.  United's name will not appear anywhere on these items sent to the borrower.  There's no need to become an employee and split your commissions when you can run your own business and have a huge company behind you.
Great Northwest Mortgage Expo
Join hundreds of mortgage professionals next week at the Great Northwest Mortgage Expo on May 12th in Portland Oregon. I will be speaking along with Rob Chrisman, David Luna on TRID, and the Oregon DFCS.    Plus, you can't afford to miss John Stevens' social media presentation.  How would you like to have 9 million+ views?  You can also get your 10 hours of continuing education the day before on May 11th.  Hurry and register now!
Bill Introduced to Delay TRID Enforcement
A bi-partisan bill has been introduced by Congressmen Steve Pearce (R-New Mexico) and Brad Sherman (D-California), that would provide temporary leniency from lawsuits and enforcement.  The bill would provide for a temporary safe harbor from the enforcement of integrated disclosure requirements for mortgage loans.  The leniency would end on January 1, 2016. 
Cordray Responds to Congress on TRID Delay
In a letter obtained by Politico, Richard Cordray was non-committal as to whether there could be a possible enforcement delay for TRID.  Cordray said he is aware of the complications and that CFPB staff are trying to make certain everyone has full information on compliance.  He did not refuse a delay but did not indicate one would be granted.
House to Hold Hearing on TRID Next Week
NAMB has been invited to submit testimony for the record on "TILA-RESPA Integrated Disclosure: Examining the Costs and Benefits of Changes to the Real Estate Settlement Process."  The hearing before the House Financial Services Committee will examine the benefits and problems associated with TRID.  Your input to our comment is welcomed.
Bill Introduced to Allow Registered LOs to Transition to Licensed
Rep Steve Stivers of Ohio has re-introduced H.R. 2121 that would allow registered LOs working for a bank to take a job with a state-licensed company.  Currently, S.A.F.E. allows licensed LOs to transfer, even from state to state, but not from bank to non-bank.  Only a few states have ever implemented state-to-state transition.  Under the bill, as long as the registered LO was working for a bank, they can immediately start working for a non-bank for up to 120 days while they meet all of the licensing requirements.   It would also require states to allow transitions from state to state.  The bill has 3 Republican and 3 Democrat sponsors and should easily pass the House.  NAMB has signed on as a supporter of the bill. Ideally, all LOs should be licensed the same and NAMB will continue to work for that.
No State AMC Law… No Federal Mortgage Money for State
 A new rule on appraisal management companies (AMCs) requires every state to have laws regulating AMCs or lose the ability to have FHA, Fannie Mae or Freddie Mac loans in the state.  If the AMC has more than 15 appraisers in the state or 25 total that provide services for them, they must register.  The real meat of this is that now both the appraiser and the AMC are required to abide by USPAP.  It is not at all clear how one knows if you are an appraisal firm or an AMC.  The rule also creates a national registry of AMCs that comes with a fee, of course.  If the AMC is owned by a bank, they don't have to register with a state, of course.
FHA Delays Effective Date For New Handbook
Originally, the policy changes in the new FHA Handbook were scheduled to become effective on June 15, 2015.  That date has been moved back to September 14, 2015.  You look at the specific areas being changed and even the new handbook at this link. The delay also includes all of the form changes that were set to start in June.
Fannie Mae to Loosen Some Income Restrictions
Fannie Mae will make it easier for wage earners who have a side business to qualify.  Here is a quick video to bring you up to date on Fannie Mae underwriting changes and some other industry news.
The Drum Beat Intensifies to Break Up the Big Banks
Senator Bernie Sanders, a presidential hopeful, has introduced yet another bill to break up the big banks. Brad Sherman is introducing the bill the House.  The bill is called the "Too Big To Fail, Too Big To Exist Act."  It does not yet have a bill number.  Sanders has introduced the bill twice before.  Elizabeth Warren and Sherrod Brown have also introduced bills that would have broken up the big banks.  Even Senator Richard Shelby has entertained the idea but no Republicans have signed on.
No Shortage of First-Time Home Buyers
Despite some small surveys saying first-time buyers are not buying homes, the American Enterprise Institute says they are.  In its most recent study compiled from data on all government guaranteed loans, AEI data shows first-time buyers accounted for 57% of home purchases, which is about normal.
26 Million Americans Are "Credit Invisible"
According to a recent CFPB survey, 11% of adult Americans have no credit history which makes them "credit invisible."  Another 8% have no score.  So, essentially, 1 in 5 Americans would find it nearly impossible to own a home.  Another interesting takeaway is that 30% of lower income Americans are credit invisible and 15% are unscored.  The question is "What is the study's definition of American?"
Freddie Mac Squeaks Out A Profit
Freddie Mac reported a $524 million dollar profit for the first quarter of 2105.  Compared to $4 billion in profits for the period a year before, that is not very exciting but it is better than the $227 million profit in Q4 2014.  It is projected that Freddie will still give the Treasury $746 million in June as the government continues to suck the assets of the GSE. 
Raises for GSE Heads Draws Fire
In other Fannie/Freddie news, FHFA is looking to raise the CEO's salaries.  It appears $600,000 is not enough to keep the current heads on board.  Rep Ed Royce of California is introducing legislation to keep the cap in place.  Even the White House and Treasury agree with Republicans that a raise is not appropriate at this time.  The strange thing is that some people at Fannie and Freddie make more than the heads. 
CFPB is Constitutional
The DC Court of Appeals ignored the argument that the CFPB is unconstitutional based on the Constitution's separation of powers since it is not subject to Congressional oversight.  A year ago, a California court already ruled the CFPB is constitutional.  The charge of unconstitutionality was brought by Morgan-Drexen, whom the CFPB said charged illegal debt relief fees.
Banks Not Easing Their Lending Standards
As non-banks continue to delve into lower credit scores and slightly less documentation, banks are not going there.  The April survey of banks by the Federal Reserve says only a "modest fraction" of banks are reporting easing lending standards.  They are obviously not impressed with the buyback changes by FHFA. 
Treasury Memo Reveals Shocking Thinking
A memo that recently surfaced showed the Treasury Department considered quite a few alternatives to Fannie Mae and Freddie Mac back in 2011.  They laid out 3 options.  Option #1 was to privatize them again, but they didn't like that because they were too big to fail.  Option #2 was to have an FHA-only government mortgage system.  Under that scenario banks would have to do the remainder of mortgage lending which they knew would mean the only loans available would be 3-year and 5-year ARMS.  There actually is a current bill in Congress that would have Ginnie Mae issue a 95% guaranty on any mortgage security.  Option #3 was the FDIC-type model that failed in Congress last year.  The memo is also pretty clear they could see the GSEs being cash-cows if they kept jacking up things like g-fees.  So far, the only thing to materialize was the cash-cow concept.
Mortgage Applications Down for the Week
The Mortgage Bankers Association reported that refinance applications took a serious tumble last week, down 8%.  Overall applications were down 4.6% due to a slight uptick in purchase activity.  It appears the Fannie/Freddie 3% down program hasn't affected FHA that much since it posted another market share gain as did VA.
 -The Political Front -
It is fun to watch the boxing match between the far left and the far right.  In case you don't know who that is, the one with the powerful left jab is Elizabeth Warren.  The guy with the strong right hook is Ted Cruz. Anything one agrees with, the other hates.  Elizabeth Warren's greatest fear is that Ted Cruz could win the White House.  Cruz has flat out said he wants a total repeal of Dodd/Frank which is Elizabeth's child.  Warren is meeting with her draft Warren admirers.  Could she be rethinking?  This is going to be a great news year!
Rate Outlook
It's that time of month again.  Yes, the BLS employment report comes out tomorrow.  It is nearly always the biggest event of the month for rates.
The poor trade deficit figure for March indicates a contraction of around 0.3 percent, similar to what we saw in the first quarter of 2014, though not as bad. Many believe this could just be pause to be followed by stronger growth later in the year. The non-manufacturing ISM jump to 57.8 suggests exactly that. But the recent run of mixed to weak data, including March's very bad jobs report, means Friday's April employment report takes on even more importance. Usually there is a rebound in jobs following a bad month.  If there is no bounce, it could push a Fed rate hike back.
Estimates for the jobs report are varying widely.  Some are projecting as low as 165,000 gain while other are optimistic that 260,000 jobs will be created.  Unemployment is expected to stay at 5.5%.
Today, jobless claims were lower than expected, which is not helping rates.  Yesterday, unit labor costs rose 5%, beating expectations for an increase of 4.5%. The higher read on labor costs is one of the things the Fed is watching. Janet Yellen is watching inflation, especially wage inflation and job creation.  Tomorrow's jobs report will be very important.